Death of a family pet? Here's how to break it to your child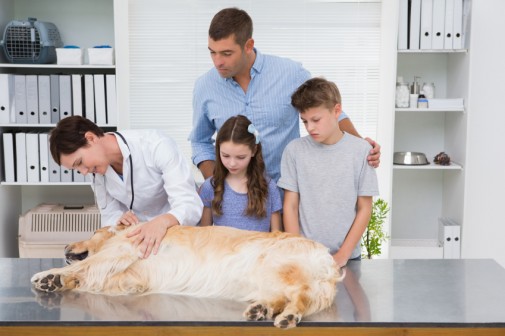 Pets are more than just animals – they're members of the family. When a pet dies, one of the hardest things to deal with may be breaking the news to your child.
Dr. Gabrielle Roberts, a pediatric psychologist at Advocate Children's Hospital in Oak Lawn, Ill., shares a few tips for parents when discussing the death of a family pet with their children.
"Supporting a child through a loss starts with open, honest age-appropriate information," Dr. Roberts says. "The main thing you want to focus on is to be honest and straightforward. This does not mean that you flood children with excessive information, but we want to give them accurate information in a developmentally appropriate manner."
Dr. Roberts cautions parents not to use euphemisms about death such as "passed away" or "put to sleep." It is best to use direct and clear language, such as, "Spike has died." Using indirect language or euphemisms can be confusing for children regarding the permanence of death.
Parents may also be grieving the death of a pet, so they should pick an appropriate time when they can handle this conversation with their child. Although crying in front of your child models a healthy and normal response, parents who are extremely overwhelmed may cause more distress to their children. Dr. Roberts encourages parents to just do their best.
"No one is perfect, and it can be a very difficult situation," she adds.
The best thing parents can do for their child is to be dedicated listeners and observers and to be available to them, which entails creating opportunities for communication while spending time together and providing affection, Dr. Roberts says.
Another process that may comfort your child is a ritual around the death. Some children may benefit from a special burial, spreading of ashes, or a memorial to honor the pet. Dr. Roberts explains that this opportunity can be therapeutic to children because it can help them channel their energy and express their feelings. It may also offer them a sense of control and closure around the loss.
Please keep in mind that everyone mourns his or her own way. There is no "right" way to grieve, Dr. Roberts says. Similar to adults, children need to be given time and space to cope with this loss in their own way.
"The absence of obvious grieving does not warrant concern. Children are resilient, and not all children will exhibit obvious grief," says Dr. Roberts. "However, it is important to be aware that other behaviors such as misbehavior or regressive behavior may be manifestations of grief."
Dr. Roberts recommends that parents monitor their child for signs of prolonged distress. If sadness, anger or behavioral problems persist in the weeks or months following the loss, parents may benefit from seeking support from a licensed mental health professional.
Related Posts
Comments
About the Author
Tiffany Nguyen, health enews contributor, is a public affairs and marketing intern at Advocate Support Centers in Downers Grove, IL. She is a graduate of Northern Illinois University with a degree in public health. She is currently pursuing a Master's in Business Administration focusing specifically on healthcare management at Lewis University. Tiffany enjoys hanging out with her friends, exploring new restaurants, and binge watching Netflix shows.