Hearing loss can impact brain function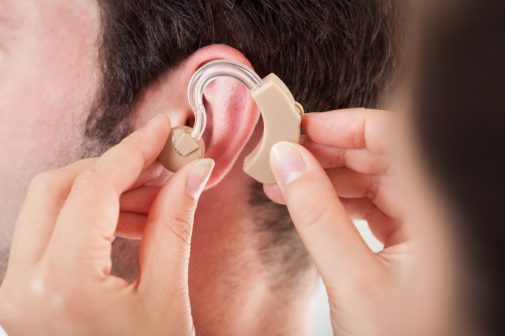 A new study shows there are more advantages to a hearing aid than simply better hearing. Researchers at Columbia University Medical Center in New York reported seniors who use hearing devices scored significantly higher on cognitive tests.
Hearing loss continues to be a prevalent issue among seniors. About 25 percent of people ages 65-74 and 50 percent of those 75 years and older have disabling hearing loss, according to the National Institute of Deafness. The condition typically affects both ears and comes on gradually. Hearing loss can occur for various reasons, including damage buildup by loud sounds over a lifetime or medical conditions that are more common in adults, such as hypertension and diabetes.
"Noise-induced hearing loss is completely preventable," says Dr.  Howard Kotler, an otolaryngologist at Advocate Trinity Hospital in Chicago. "However, once it occurs, it is irreversible. We recognize the importance of early detection and treatment for communication disorders in older American adults."
The study, which was published in the American Journal of Geriatric Psychiatry, included 100 adults, ages 80-99, with hearing loss. Thirty-four people who had hearing aids scored better on mental function exams than those without hearing aids. The researchers also found that hearing aid users who had worse hearing than people who weren't using them, performed better.
"We know that hearing aids can keep older adults with hearing loss more socially engaged by providing an important bridge to the outside world," said Dr. Anil Lalwani, a professor of otolaryngology/head and neck surgery at Columbia University Medical Center, in a news release.
Previous research has shown that hearing-impaired elderly people are at increased risk for fall- and accident-related death, social isolation and dementia, compared to those without hearing loss.
Kotler said if a person suspects they may have hearing issues, they should see an otolaryngologist or an ear, nose and throat doctor. These physicians specialize in ear issues and can help identify the cause. Treatment may include hearing aids, cochlear implants or the use of assistive listening devices. It should be noted that some hearing impairment may be an unavoidable part of the aging process.
May is Better Hearing and Speech month, so Dr. Kotler is taking the opportunity to warn children and adults about the potential decrease in quality of life when hearing diminishes.
"Hearing loss can impact a child's academic and social success, as well as future vocational choices," he says. "By teaching safe listening habits early, when technology such as smartphones, tablets and MP3 players are first introduced, parents can help preserve their children's hearing for a lifetime. Everyone should take extra precautions to protect their hearing, no matter what their age."
Related Posts
Comments
About the Author
health enews staff is a group of experienced writers from our Advocate Aurora Health sites, which also includes freelance or intern writers.