My sudden cardiac arrest survival story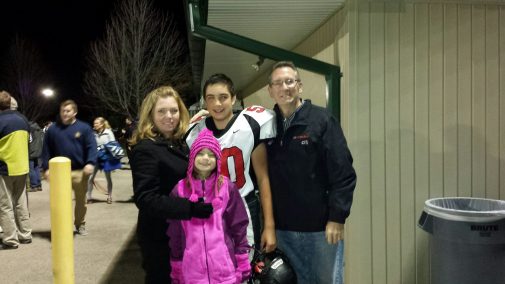 It is February 6 around 5:30 pm.
I am upstairs in our home, speaking with my 16 year old son Brendan, telling him that I will be driving his sister Grace to a friend's house. In mid conversation, without any warning at all, I find myself slumped against a wall, then falling to the floor in a heap, landing on my side.
I quickly turn purplish-blue, because there is no blood flowing through me…
My heart has stopped…
Clinically, I am dead…
Brendan quickly realizes that I am in great distress, so he turns me on my back, and dials 911. The 911 operator goes through his protocol of questions with Brendan to determine the extent of the emergency, and he dispatches first responders to our home.
Meanwhile, a second 911 operator comes on the line, and tells Brendan he will help coach him on how to perform CPR on me. As Brendan pushes on my chest, as he is instructed to do, the 911 coach counts out loud to record the number of compressions.
Grace, who is downstairs and had heard a loud thump from Brendan's room, assumes something upstairs had fallen.
She's right; it is me, her dad, lying lifeless on the floor.
Brendan tells Grace of the seriousness of my condition, and asks her to go downstairs to the front door, and be on the lookout for the first responders.
Grace spots Officer Kelly of the Barrington Police Department, who is the first to arrive on the scene. Grace's role as spotter proves crucial, because Officer Kelly almost drives by our house, as it is challenging to see our house number.
Officer Kelly races upstairs, and takes over performing CPR on me. In the interim, Grace calls my wife, Noreen, to tell her what had happened, and Grace asks her to come home right away. Noreen is in Chicago, helping a friend with a project, and begins a difficult ride home to Barrington. We are blessed that Noreen's Chicago friend, Sandra, rides back to Barrington with Noreen.
Within minutes, the Barrington Fire Department arrives, takes over CPR, and begins other lifesaving procedures. While at home, I am "paddled" four times, before, on the fifth attempt, a steady beat is sustained. After some 20 minutes in our home, the Barrington Fire Department has me intubated, on a gurney, and on the way to the excellent and caring staff at Advocate Good Shepherd Hospital.
---
Part two of my blog will share my journey after entering the hospital. And I look forward to sharing more in future blogs about my story, my progress in recovery, and what I have learned about CPR, AEDs, heart disease and sudden cardiac arrest.
Related Posts
Comments
About the Author
Tom Gould, a Barrington resident and Advocate Good Shepherd Hospital patient, shares his journey after experiencing a sudden cardiac arrest.