Do moderate drinkers have better heart health?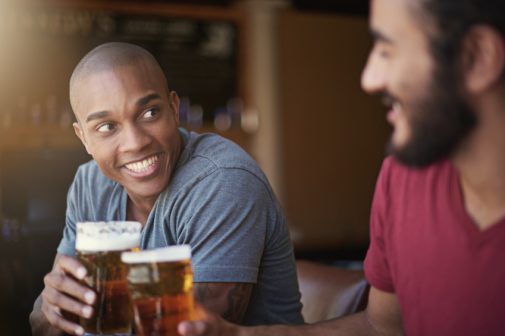 A pair of recent studies suggests that moderate alcohol consumption can improve your heart health.
Researchers from the Norwegian University of Science and Technology found that those who reported drinking three to five alcoholic beverages per week were 33 percent less likely to suffer from heart failure and significantly less likely to suffer a heart attack, cutting their risk as much as 28 percent with each additional drink. In contrast, participants who drank five or more drinks per week were at higher risk of heart problems and death.
"There have been many studies over the years that point to the health benefits of moderate drinking, but perhaps just as many warning against the dangers of higher alcohol consumption," says Dr. Dean Ferrera, a cardiologist with Advocate Heart Institute at South Suburban Hospital in Hazel Crest, Ill. "While studies like these may reassure those who have a couple of drinks a week, it also serves as a reminder that there is a fine line between healthy and harmful alcohol intake."
The researchers pulled data from more than 60,000 people that had completed the HUNT study, an extensive health survey done in Nord-Trondelag County, Norway. All participants were 20 years old or older and none had a history of either heart disease or heart attack. Both studies controlled for factors that could influence heart health like age, education level, anxiety and depression, smoking, exercise habits and other chronic health conditions.
Researchers hypothesized that alcohol may lead to more good cholesterol, but highlighted the need for moderation.
"The best ways to prevent heart disease and heart attack are by maintaining a healthy lifestyle and being on top of preventive care and disease management," says Dr. Ferrera. "The good news is, the occasional drink with a friend isn't likely to cause great harm, as long as the drinking doesn't become problematic."
A 2015 study found that problem drinking is more common than previously believed, affecting nearly 30 percent of adults at some point in their lives.
The American Heart Association points out that increased alcohol consumption can also increase the risks of high blood pressure, obesity, stroke, breast cancer, suicide and accidents. For those that do drink, they recommend no more than one to two drinks per day for men and one drink per day for women. (A drink is one 12 oz. beer, 4 oz. of wine, 1.5 oz. of 80-proof spirits, or 1 oz. of 100-proof spirits.) Additionally, Dr. Ferrera typically advises his patients to abstain from drinking at least one day per week.
Do you know your risk for heart disease? Take Advocate Heart Institute's heart risk assessment here. If you are at high risk, see an Advocate cardiologist within 24 hours.
Related Posts
Comments
About the Author
health enews staff is a group of experienced writers from our Advocate Aurora Health sites, which also includes freelance or intern writers.