8-year-old responds to grandpa's stroke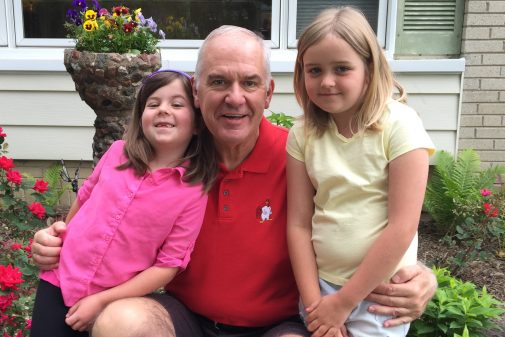 One morning in February, Eric Arneson, age 59, was getting ready for work. His daily routine included dropping his 8- and 5-year-old granddaughters off at school. Eric's wife, Karen, who had left the house a few minutes earlier and knew Eric to be easily distracted by his email and the news, decided to call him to make sure he was on the way out. Oddly, her 8-year-old granddaughter, Emma, answered the phone instead. She said she hadn't seen her grandpa in a while. Emma promised to go find him and have him call back right away.
Lying on the floor in his room, Emma found her granddad. He was conscious, but unable to move. Emma immediately called her grandma. When Eric started talking gibberish, Karen called 911.
Karen hurried home and arrived just as the paramedics were loading Eric in the ambulance. She requested that he be taken to Advocate Lutheran General Hospital in Park Ridge, Ill., because all the family's doctors are on staff there. At the time, she didn't know that the hospital is a comprehensive stroke center, which means it has earned the highest level of recognition for its rapid identification and emergency treatment of stroke.
Karen arrived in the Emergency Department. "I never even sat down," she recalls. "The doctors greeted me, brought me back to see Eric and immediately gave me our options. They suggested tPA (tissue plasminogen activator, a stroke treatment that works by dissolving the blood clot and improving blood flow) and reviewed the potential side effects. To me, it was a no brainer. The potential benefits outweighed the negatives."
"When it comes to stroke patients, timing is critical," says Dr. Thomas Grobelny, a neuroendovascular surgeon at Lutheran General. "tPA must be administered within 3 hours of the initial symptoms. Many patients don't realize they are having a stroke, or they think the discomfort and effects they are feeling will go away. In Eric's case, he didn't realize he was having a stroke, but he could tell something wasn't right. Luckily, his family and granddaughter were there to help ensure he got the proper care that he needed."
Eric received the tPA, and further imaging was performed, which demonstrated a large vessel occlusion. For patients with this large vessel occlusion, an additional option, called mechanical thrombectomy, is available. This procedure is only provided at comprehensive stroke centers. A catheter is placed in the femoral artery, and from that access, neuroendovascular physicians are able to navigate up to the brain and physically remove the clot with special devices call stentrievers, thereby opening the blocked vessel and allowing blood flow to the brain.
After Dr. Grobelny removed the blood clot, Eric spent roughly 17 days in the hospital. He graduated from rehabilitation and was able to go home.
He still keeps up with the news every day and reads religiously. In his free time, Eric is a bit of a handy man, but his doctors have asked him to keep his power tools unplugged for a little longer. He continues to work on his speech therapy and has been progressing at an incredible rate.
Looking back on the ordeal, Karen says of their experience, "The technology and the treatment is amazing. You could see the before images, where no blood was flowing to his brain. Then, Dr. Grobelny pulled out the clot, and everything just opened up."
Related Posts
Comments
About the Author
Mickey Ramirez, health enews contributor, is the director of Brand Services. He enjoys kimchi, honesty and a room with a view. He claims to not be a writer, but he occasionally learns information that is just too important to keep to himself.