5 rewarding things about being a nurse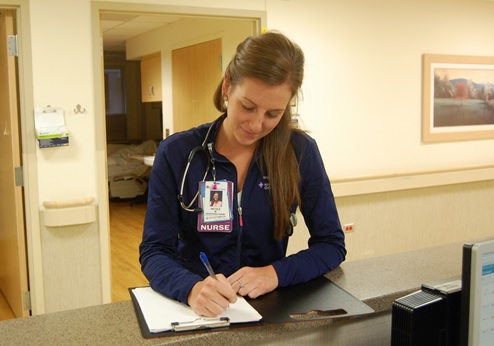 "Nursing is challenging, exciting and, most of all, rewarding in so many more ways than I can explain," says Nicole Benedetto, a nurse at Advocate Christ Medical Center in Oak Lawn, Ill.
Since beginning her career in nursing at Christ Medical Center two years ago, there are five things Benedetto finds most rewarding about her job.
1. Hearing patients' stories.
Benedetto doesn't mean simply learning what ailment has brought a patient to her. "Every patient has their own story to tell," she says. "Getting to learn from my patients' life experiences is such a blessing. Because of this, I have learned to appreciate every little thing in life."
2. Working as part of a team and getting hands-on experience.
"Every day, I work with a group of five other nurses, three patient care associates, a social worker, care manager and physicians. We bounce ideas and questions off one another constantly. It is so great to know you are never alone in your job," Benedetto says.
She also enjoys spending time with her patients and their families, who provide her with hands-on experience and keep her on her toes.
"I don't have to sit at a desk all day. I get to walk—and sometimes run—to patient rooms!"
3. Teaching others and being taught.
Benedetto says that with the ever-changing, ever-advancing medical field, nurses are constantly provided with new educational opportunities in order to ensure they can offer the latest and greatest care possible.
In addition, she says that nurses are always teaching one another. "Working with a group of nurses that are so responsive to educating one another is a vital part of becoming the best nurse possible."
4. Being provided opportunities for growth.
Benedetto loves how open the field of nursing is, with room for advancement every step of the way.
"In two short years, I have gone from a new graduate, through orientation, to being a nurse clinician II, certified to administer chemotherapy and now, helping to organize and run our hospital Shared Practice Council, a select group of individuals who work to bring the concerns of bedside staff to the decision makers."
5. Making a difference.
"Most of all, I get to wake up every morning for work and know that I can make a difference in a patient's life by being the kind of nurse they need," Benedetto says.
She explains that nurses get to be creative with their job, and that no day is the same.
"When I assess my patients, I think about what I can do for them to not only help them medically, but how to make them feel truly cared for. When I see the appreciation in the patient and family, it makes everything worth it."
Related Posts
Comments
About the Author
Holly Brenza, health enews contributor, is a public affairs coordinator on the content team at Advocate Health Care and Aurora Health Care. She is a graduate of the University of Illinois at Chicago. In her free time, Holly enjoys reading, watching the White Sox and Blackhawks, playing with her dog, Bear and running her cats' Instagram account, @strangefurthings.