How to deal with the dreaded public temper tantrum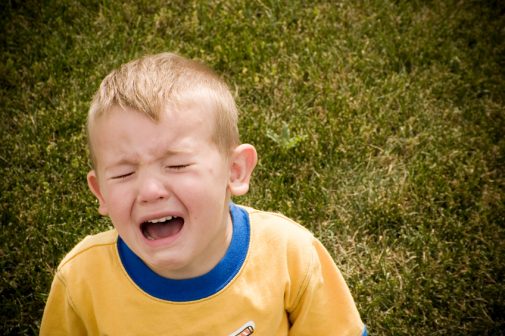 If you have kids, you've likely experienced one of their meltdowns at some point in time. They scream uncontrollably, arch their backs and absolutely nothing satisfies them. It usually happens at the worst possible time, in the most public place, when it feels like everyone is watching you and your child.
For a parent, this type of situation can result in a strong emotional response, which may include frustration, embarrassment and even anger.  It can leave you feeling totally out of control. Some even freeze, not knowing what to do.
So what's the best way to handle these meltdowns?
CNN released a Digital video series called "Parent Acts" that shows parents demonstrating their child's tantrums and provides advice on how to deal with the situation. Their tips include:
Start by trying to prevent the meltdown in the first place. Watch for your child's triggers. Taking kids grocery shopping when they're hungry can often set the stage for a tantrum.
Disregard what others think. "Stop, drop and do what you have to do" to help your child. Forget about what others think. It's important for parents to stay calm in order to help your child calm down and not escalate the situation.
Create a small upside. It's important to think of creative ways to retain your authority as a parent. This might mean producing a small allowance or indulgence in order to stop the tantrum and keep you in control.
Have a proactive strategy. Don't leave home without a plan for how to deal with tantrums. Stick to your plan and be consistent.
Help children express their feelings and ask for support. Help them learn to say, "Dad, I need help. I want to do this." And help them communicate what they are feeling.
Dr. Cathy Joyce, an expert in pediatrics and adolescent behavior at Advocate Children's Hospital, advises parents to use behavioral management techniques.
"Realize that meltdowns are learned behaviors. The behavior can be generated by fear, anger, frustration and sensory overload," Dr. Joyce says. "Parents must remain calm and not reinforce unwanted behaviors. Talk to your child. Do not try to persuade or bribe them as that will reinforce the unwanted outburst. Look for the potential trigger, and change the situation or offer alternative ways of handling the situation, including self-soothing behaviors such as relaxation."
Every child acts out on occasion, some more often than others. But when these behaviors and emotions are consistently inappropriate, intervention may help.
Visit Advocate Children's Hospital Behavior Health Services to learn more.
Related Posts
Comments
About the Author
health enews staff is a group of experienced writers from our Advocate Aurora Health sites, which also includes freelance or intern writers.