Is detox water healthier than regular water?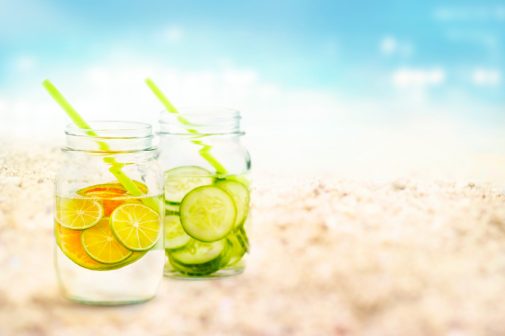 Detox water pictures and recipes are taking over the internet with different health claims depending on the water's ingredients. So what are the true health benefits of detox water?
According to Dr. Arturo Olivera, a gastroenterologist at Advocate Illinois Masonic Medical Center in Chicago, the health benefits attributed to detox water can largely be attributed to the water itself. "Although drinking infused water has some benefits and may seem more fun and appealing, the act of drinking water itself is what provides the greatest benefits," says Dr. Olivera.
Detox water, often referred to as fruit infused water, is water that has been infused with fruits, vegetables or herbs. Different ingredients are added to the cold or hot water for a variety of reasons.
Some health benefit claims of detox waters include weight loss, toxin removal, better digestive function, a boosted immune system and increased energy levels. "These potential benefits are more directly related to drinking water itself, but there is no real downside to adding infused ingredients. Plain water can understandably become boring, so changing it up every once in a while could help you stay on the right track," says Dr. Olivera.
Detox water has very few calories because it is made by infusing the ingredients instead of blending and juicing. But this leads to the misconception that drinking detox water will automatically result in weight loss. "Eating a healthy diet and getting enough exercise remains the best way to reach and maintain a healthy weight," says Dr. Olivera. "Drinking infused water can potentially help with weight loss by replacing drinks high in sugar and calories, but this act alone will not result in effective, sustainable weight loss."
Dr. Olivera adds that water also helps food pass through the gut and prevents constipation. Drinking water and staying hydrated is necessary for digestive functions. Easier digestion is one of water's greatest benefits, but different fruit combinations in detox waters can help with digestion as well, Dr. Olivera says.
While fruits and vegetables are known to help support the immune system, the amount of nutrients that a person might get from an infusion in their detox water is very minimal and likely to be highly inconsistent. "Fruits and vegetables in their whole form provide more nutrients than when infused in water," Dr. Olivera says. "While infusing them into water is fine, make sure you're still consuming the recommended number of fruits and vegetables as well."
Detox waters are still a healthy choice and are considered a great alternative for drinks high in sugar such as sodas and other juices. They can also help add flavor to your water, keeping you motivated to reach the recommended one liter per day.
Related Posts
Comments
About the Author
health enews staff is a group of experienced writers from our Advocate Aurora Health sites, which also includes freelance or intern writers.