Can fruits and veggies make you happier?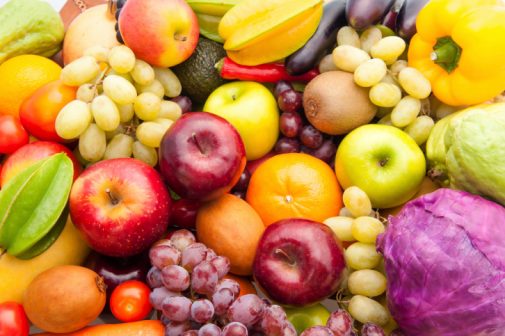 We've all been told eating fruits and vegetables is good for your health. But can it make you happier, too? New research out of the University of Warwick suggests the answer is yes, and the increase in happiness could be pretty substantial.
The study was based on national surveys in Australia and published in the American Journal of Public Health. Researchers found that people who went from eating almost no fruits and vegetables to eight portions a day experienced an increase in happiness and satisfaction equivalent to going from being unemployed to getting a job.
"Eating fruit and vegetables apparently boosts our happiness far more quickly than it improves human health," said Professor Andrew Oswald, co-author of the study, in a release. "People's motivation to eat healthy food is weakened by the fact that physical-health benefits, such as protecting against cancer, accrue decades later. However, well-being improvements from increased consumption of fruit and vegetables are closer to immediate."
"Of course, very few people would ever go from eating zero fruits and vegetables to eight portions a day," Oswald added. But even two extra portions of fruits and veggies each day would cause a measurable "happiness effect," increasing satisfaction, he said. In fact, happiness increases were seen for every added portion of fruits and vegetables each day, all the way up to the eight added portions.
Sarah Katula, a psychiatric advanced practice nurse at Advocate Good Samaritan Hospital in Downers Grove, Ill., believes the findings are interesting but thinks more research needs to be done to truly understand what is going on. "This study was just looking at what people were adding to their diets, in this case, more fruits and vegetables," she says. "But what the research didn't account for is what they stopped eating."
For example, were they full from the added fruits and vegetables and consequently decreasing their consumption of processed foods that are high in sugar and preservatives, Katula wonders. These types of foods can cause inflammation of the gut, and that has an effect on the brain. When these foods are removed from a diet, it's understandable that there would be a mental health benefit.
Rosemary Mueller, a registered dietitian at Advocate Medical Group's Weight Management Program in Park Ridge, Ill., agrees that "it's prudent to be careful in the interpretation of the results."
She says that in general, when people are more mindful and improve their diets, they often feel better, especially when consuming more whole foods such as produce. But Mueller cautions that there is such a thing as too much fruits and veggies. "Although fruits and vegetables are excellent nutrient-dense food choices, there should be a 'ceiling' on total portions for most people, because a calorie is still a calorie, and none of us have an unlimited calorie budget."
Similarly, Katula urges some restraint, recommending individuals eat a lot more vegetables than fruits. "Fruit has a lot of sugar, and guidelines typically recommend only two servings a day," she says.
Related Posts
Comments
About the Author
Jacqueline Hughes is a former manager, media relations at Advocate Aurora Health. Previously, she was the public affairs and marketing manager at Advocate Lutheran General Hospital in Park Ridge, IL. She earned her BA in psychology at Stanford University in Palo Alto, California. Jackie has 10 plus years experience working in television and media and most recently worked at NBC 5 in Chicago. In her free time, she enjoys swimming, going to the movies and spending time with her family.