An upsetting trend for children who don't get enough sleep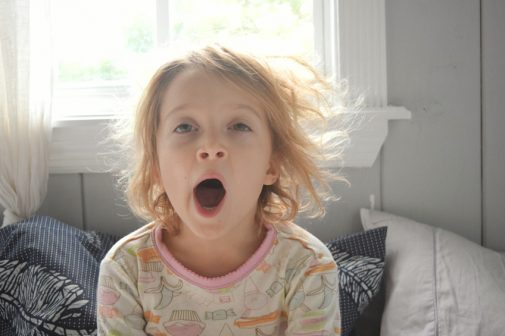 Most people have experienced first-hand how lack of sleep can lead to many negative side effects including feeling groggy, cranky and sometimes short-tempered. But a new study, currently being conducted at the Sleep and Anxiety Center of Houston, located at the University of Houston, suggests sleep deprivation can actually lead to more serious emotional disorders such as anxiety and depression in children.
As part of the ongoing study, researchers evaluated 50 pre-adolescent children between the ages of 7 and 11 with temporary sleep restrictions and found that lack of sleep not only caused more negative emotions, but it also made it harder for children to experience positive emotions.
In particular, they observed after only two nights of sleep restriction, the children were less responsive to and less engaged in positive experiences. The children also had a hard time recalling memories from positive experiences.
Dr. Natalie Sgarlata, an Advocate Children's Medical Group pediatrician with Advocate Condell Medical Center agrees that adequate sleep is important for children.
"Sleep is needed for physical, mental and emotional health,"  says Dr. Sgarlata. "It recharges our bodies. Sleep deprivation makes it hard for children to focus in school and other activities. Without the proper sleep, their focus and energy level suffer."
The National Sleep Foundation offers these recommendations for proper sleep ranges:
Newborns (0-3 months): 14-17 hours
Infants (4-11 months): 12-15 hours
Toddlers (1-2 years): 11-14 hours
Preschoolers (3-5): 10-13 hours
School age children (6-13): 9-11 hours
Teenagers (14-17): 8-10 hours
Due to the long-term emotional toll of inadequate sleep on children, the researchers of the study urge parents to take the issue seriously.
"Continually experiencing inadequate sleep can eventually lead to depression, anxiety and other types of emotional problems. Parents, therefore, need to think about sleep as an essential component of overall health in the same way they do nutrition, dental hygiene and physical activity," the researchers said in a release.
Additionally, Dr. Sgarlata suggests parents be hands-on when it comes to their children's sleep schedules from birth through the teenage years.
"For younger children, parents should establish a set nighttime routine. Children thrive on routines," says Dr. Sgarlata. "For older children, parents should limit technology after a certain time of night. Television, iPads, computers and phones keep children and adolescents awake and make it more difficult to get a good night of sleep."
Related Posts
Comments
About the Author
health enews staff is a group of experienced writers from our Advocate Aurora Health sites, which also includes freelance or intern writers.