Feeling sleepy during the day? This may be the reason why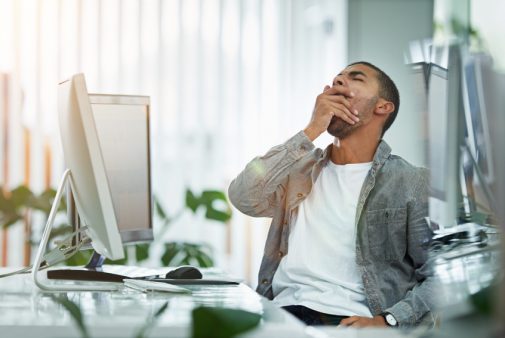 Do you find yourself excessively sleepy throughout the day? One study found that your diet may be to blame.
Researchers from the University of Adelaide studied the diets and lifestyles of 784 men between the ages of 35 and 80, controlling for things like weight, exercise levels, chronic health issues and smoking and drinking habits. Participants also underwent sleep studies to rule out sleep apnea, which can cause sleeplessness and exhaustion. They found that men who eat fatty foods were more prone to daytime drowsiness. Among those who reported the highest-fat diets, nearly half said they were habitually tired throughout the average day.
It's not known exactly how unhealthy fatty foods cause drowsiness, but previous research has suggested these foods can slow metabolism. Researchers also suggested what time people eat may have an effect.
"A good diet and quality sleep are central to our health and wellness. Unfortunately, in today's fast-paced world, they are often sacrificed," says Dr. Varsha Bhan, an internal medicine physician on staff at Advocate South Suburban Hospital in Hazel Crest, Ill. "It's easy to over-rely on fast food while juggling multiple commitments to work and family, and many of us fall prey to high-fat 'comfort foods' in times of stress, believing they make us feel better in the short term. But are the potential long-term effects worth it?"
Information on participants' diets was collected through a national diet questionnaire.
Although the study controlled for sleep disorders like sleep apnea, participants who ate the most fatty foods were found to be at increased risk of developing the disorder. Today, nearly 18 million Americans have sleep apnea, which is often associated with people who are overweight, according to the National Sleep Foundation.
"Sleep plays a critical role in our brain function, so skipping out on needed sleep can make it harder to function in your job or at school and can put you at higher risk of accidental injury," says Dr. Bhan. "When you combine that with risks of a poor diet, such as high cholesterol and heart disease, it can be a recipe for disaster."
Dr. Bhan offers three simple ways to get your diet back on track:
Plan meals ahead so you are less tempted to stop for a quick fix at a fast food restaurant.
Keep healthy fingers foods like fruits and vegetables available, so when you feel the urge to snack, you have something easy and healthy to reach for.
Make sure you are drinking enough water throughout the day. It can help you feel full and satiated.
Related Posts
Comments
About the Author
health enews staff is a group of experienced writers from our Advocate Health Care and Aurora Health Care sites, which also includes freelance or intern writers.