Is free food at work derailing your diet?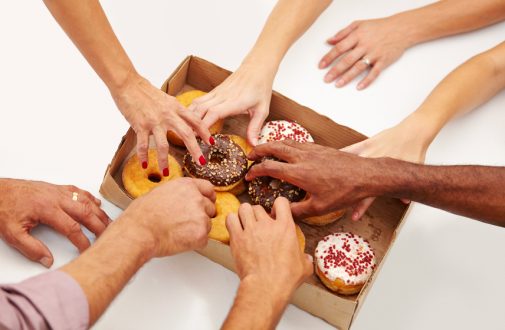 Whether healthy or unhealthy, many would agree that free food at work is a good perk. But while it might be nice to have a fully stocked kitchen or table just feet from where you work every day, it can also wreak havoc on your diet. Thankfully, new research found a simple switch may help you avoid unhealthy free snacks.
The new study appeared in the journal Appetite and was conducted in the field at Google's New York office. The researchers hypothesized that the location of the free food and specifically its proximity to free beverages in the office would affect how much employees ate.
The results confirmed their theory. They found that the closer the snacks were to the beverage station, the more people would consume. In fact, the likelihood of snacking increased from 12 percent to 23 percent for men when the station was closer to the beverages. For women, the increase was smaller, but still noteworthy. Their likelihood of snacking went from 13 percent to 17 percent when the snacking station was closer to the beverages.
"In this case, a few additional feet between snacks and beverages caused a large enough decrease in snacking to potentially result in meaningful weight loss over time," the researchers said in a release.
The results are significant because they allow employers to maintain employee satisfaction by keeping free food at work, but also provide a way to ensure work isn't contributing to overeating and obesity.
Rosemary Mueller, a registered dietitian at Advocate Medical Group's Weight Management Program in Park Ridge, Ill. isn't surprised by the findings that just a matter of feet really matters.
"Perhaps the fact that workers could quickly pick up a snack and beverage together minimized thinking time so that workers can quickly rationalize grabbing the food by telling themselves 'It's free–I might as well take it' or 'I work hard, I deserve this'," she says. "On the other hand, if they had to go out of their way to specifically get a snack, they may be more likely to say to themselves 'Am I really hungry?' or 'Do I need this?''
But what if moving the free food table farther away from the beverage station isn't an option?
Mueller offers these tips for sensible eating and snacking at work:
Bring a healthy lunch from home. An unplanned or nonexistent lunch leaves you prey to the sights and smells of less nutrient-dense foods and more vulnerable to the "grab and go" snacking mentality.
Eat moderately at regular intervals. It helps to eat about every three to four working hours. Typically, waiting for more than five hours can lead to impulse eating or overeating.
Keep water at your desk and stay hydrated. Aim to drink about half your body weight (in pounds) as fluid ounces per day. For example, a 120 pound woman should aim to drink at least 60 ounces.
Related Posts
Comments
About the Author
Jacqueline Hughes is a former manager, media relations at Advocate Aurora Health. Previously, she was the public affairs and marketing manager at Advocate Lutheran General Hospital in Park Ridge, IL. She earned her BA in psychology at Stanford University in Palo Alto, California. Jackie has 10 plus years experience working in television and media and most recently worked at NBC 5 in Chicago. In her free time, she enjoys swimming, going to the movies and spending time with her family.