Who does the housework?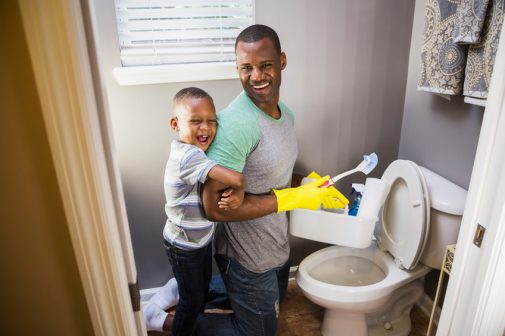 We may not have come that far from the traditional family roles of 'Leave it to Beaver' or 'Happy Days,' where mom is responsible for child rearing, cleaning the house and cooking, while dad is responsible for bringing home the 'bacon' and keeping up the yard and cars.
According to a new study, sex and gender still influence the roles in which couples play in the household, regardless of the salaries each person brings home. The research looked at responses from a national survey of over 1,000 adults in 2015.
"Nearly three quarters of our respondents thought that the female partners in heterosexual couples should be responsible for cooking, doing laundry, cleaning the house and buying groceries," says Natasha Quadlin, lead author of the study for the American Sociological Association. "In addition, nearly 90 percent of our respondents thought that heterosexual men should be responsible for automobile maintenance and outdoor chores. Regardless of the partner's relative income or gendered hobbies and interests, our respondents gravitated toward the person's sex instead."
And when it comes to taking care of the children, respondents still believed women should be the stay-at-home parent if a couple decided one parent should stay home.
Even when looking at same-sex couples, the research showed that people believed the more effeminate partner should be responsible for cleaning, cooking and grocery shopping. Lower income was rated second as a determining factor for who would do the housework.
While the study provides interesting insight into the state of gender roles and equality just last year, experts still caution and advise that one of the best ways to divide and conquer chores today is to discuss it through open communication.
"It's important to maintain a balance within the relationship when it comes to dividing house work," says Dr. Philip Favia, family medicine physician at Advocate Good Shepherd Hospital in Barrington, Ill. "Communication is key to a healthy relationship, and in my opinion, determining chores by income is more of a traditional approach. Nowadays, families are more likely to divide housework in a more equal manner. "
Related Posts
Comments
About the Author
Liz Donofrio, health enews contributor, is a marketing specialist at Advocate Health Care. As a newlywed, she is happy to be done planning her wedding and enjoying spending time with her husband and new extended family. In her free time, you can find Liz cooking new tasty recipes for her family, attending Chicago sporting events and chasing after her shih tzu-yorkie, Buttons.