What warrants a trip to the Emergency Department?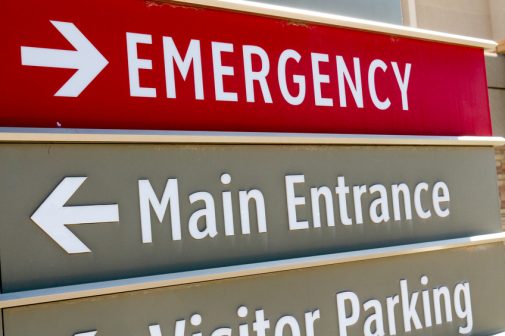 When you or a loved one is feeling ill, sometimes it's hard to know what type of medical care you really need.
When to go to the Emergency Department
A recent article from CNN suggests going to the Emergency Department in five situations. They include: if you're experiencing chest pain or unusual shortness of breath; severe abdominal pain that comes on suddenly or keeps getting worse; a head injury or extremely intense headache that comes with dizziness or vomiting; or a cut that just won't stop bleeding. Carrie Mendoza, MD, FACEP, an emergency medicine physician at Advocate Illinois Masonic Medical Center in Chicago, agrees with these recommendations.
"You should absolutely visit an Emergency Department if you're experiencing any severe or unusual pain, especially if you think it could be life-threatening," says Dr. Mendoza.
In addition to the conditions above, Dr. Mendoza says that you should also make the trip to the Emergency Department if you're experiencing:
Bleeding from your bowels
An allergic reaction
A sudden change in vision
Unexplained confusion
A high fever that's not relieved with medication like Motrin or Tylenol
These symptoms could indicate a more serious problem requiring immediate medical attention.
What to bring
Emergency situations are always stressful, and it's not always possible to be totally prepared. But, if you have time and are able, bringing a list of previous and current medical problems, allergies and medications can be very helpful.
"Especially if you have not been to the institution you're visiting before, this information can help your doctors and nurses provide the care you need more quickly," says Dr. Mendoza. "If possible, the name of your primary care physician and pharmacy is also really useful."
What to expect
Emergency medicine physicians treat all kinds of complex medical conditions, from gunshot wounds to heart attacks to less severe ailments. In order to manage these different conditions by severity and potential danger, sometimes a person who arrived later may see a physician first even though others have been waiting for a while. That's one reason why physicians recommend people with less urgent illnesses, like the common cold, seek treatment in settings outside the emergency department.
"We know no one comes to the Emergency Department unless they're very concerned about what they or their loved one is experiencing," says Dr. Mendoza. "We treat every condition we see seriously and focus on providing care as efficiently and safely as possible."
If you're unsure if you should visit the Emergency Department, it may help to call your primary care physician's office to talk through your situation. If you suspect you ingested a poison, you can also call Poison Control at 1-800-222-1222 for information. And for treatment for a range of more common illnesses and injuries, including cold and flu, ear infections, strep throat, migraines, pink eye, rashes, bronchitis and upper respiratory infections, sprains, strains and more, Advocate Clinic at Walgreens locations accept walk-in visitors at 56 locations across Chicagoland.
Dr. Mendoza also cautions the use of online information when making this important decision.
"There are so many wonderful resources online that help people learn more about their bodies, disease processes and so much more," says Dr. Mendoza. "However, information online tends to be very general, is sometimes confusing and might not always relate directly to your personal situation. Always consult a medical professional when you think it may be serious."
Related Posts
Comments
About the Author
health enews staff is a group of experienced writers from our Advocate Aurora Health sites, which also includes freelance or intern writers.