Injuries increased 12-fold at these popular attractions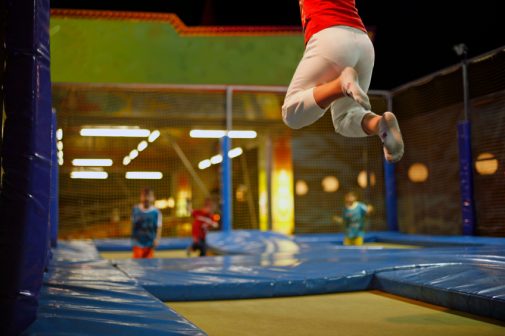 A recent steep increase in the number of trampoline parks appears to be accompanied by a large jump in serious injuries to kids who visit the parks, according to a new study in the journal, Pediatrics.
In 2011, there were approximately 35 trampoline parks, a series of connected trampolines in a big room surrounded by a padded or trampoline wall. According to the International Association of Trampoline Parks (IATP), that number had leaped to 280 by 2014.
Over approximately that same time period of explosive trampoline park growth, researchers from Connecticut Children's Medical Center found that U.S. emergency rooms saw a 12-fold increase in the number of patients injured at these parks – from 581 in 2010 to almost 7,000 in 2014.
The results showed that sprains and dislocations are the most common injuries for kids at the trampoline parks. Some of the most serious injuries noted included skull and open leg fractures and spinal cord trauma. The findings are based on records from a nationally representative sample of 100 hospital emergency rooms.
"Some people consider trampolines just another fun way for kids to be active and get some exercise," says Dr. Michelle Meeks, a pediatric specialist on staff at Advocate South Suburban Hospital in Hazel Crest, Ill. "But because of the high jumping, opportunities for high impact collisions and attempted acrobatics, there are significant risks to children on trampolines and at trampoline parks."
The study also found that the majority of trampoline-related accidents occur at home, not at a park. These accidents did not increase significantly from 2010 to 2014, nor did overall trampoline injuries.
The American Academy of Pediatrics advises against trampoline use for all children, but says if children do use them, they should not do flips or have more than one jumper at a time on a trampoline. The academy strongly recommends adult supervision of trampoline use and stresses that trampolines should also have proper padding.
For parents who want to take their kids to a trampoline park, Dr. Meeks says that extra caution is warranted in order to keep them safe.
"Definitely watch your children the entire time, and don't allow flipping or other extreme stunts," she says. "And, if any area gets crowded, move your children off the trampoline or to another area. This is especially important if you have small children who find themselves jumping in close proximity to older, bigger kids."
According to the researchers, younger children were more likely than teenagers or adults to sustain broken bones. Fractures accounted for nearly half of injuries among children younger than 6 years old.
The IATP, in response to the study, said the rise in injuries should be expected because of more parks in recent years.
"We believe that the positives of youth recreational sports far outweigh the negatives, and we are actively engaged in programs aimed at promoting the safety and well-being of jumpers who visit our member parks," the group said in the statement.
Related Posts
Comments
About the Author
Nate Llewellyn, health enews contributor, is a manager of public affairs at Advocate Medical Group. Nate began his career as a journalist and builds daily on his nearly 20 years of writing experience. He spends most of his free time following his wife to their two sons' various activities.