Why teal is my color of choice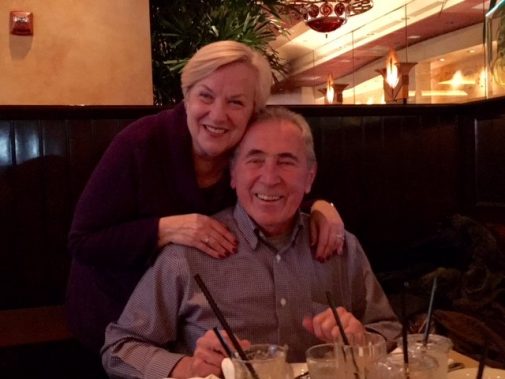 September is designated as Ovarian Cancer Awareness Month, and teal is its color. 23,000 girls and women are diagnosed annually in the US; nearly half succumb to late stage diagnosis.
In early fall of 1998, I began noticing vague, but obvious, changes in my body, which I attributed to menopause. I was eating less, but gaining girth. I alternated between constipation and diarrhea. I felt something slogging around my lower left side while carrying a laundry basket. In short, I was just out of sorts. But it wasn't until my older son said that I looked pregnant – shocking words at age 51 – that I acted.
I called and saw Dr.Philip Grandinetti that same day, a family medicine physician who works at Advocate Lutheran Hospital in Park Ridge, Ill. He ordered a CT Scan, and moved me on to my Oby-Gyn, Dr. Fred Grabner, who examined me, did a blood draw for the ovarian cancer marker and a CT Scan, which showed a large cyst on the left ovary. Dr. Grabner referred me to Dr. James Dolan, an oncologist and gynecologist at Advocate. He reassured me and scheduled surgery for three weeks later. All this happened within a month.
The surgery and removal went well, and the cyst looked normal. Dr. Dolan was called back in when they opened the cyst and found cancer. Had I waited and the cyst had burst, I would have been in a more advanced stage of ovarian cancer. The pathology reports came back as Stage 1A, epithelial ovarian cancer, the most common of the 35 forms of ovarian cancer. Dr. Dolan said that I had a good percentage of no recurrence, but he strongly suggested four rounds of the "gold standard" of initial ovarian cancer treatment every three weeks as my "insurance policy". I remain deeply grateful for my physicians and for the gentle and attentive care I received from Dr. Timothy Lestingi, my medical oncologist, and the caring staff at the then-named Cancer Care Center at Lutheran General Hospital.
I knew little about ovarian cancer except that the delightful Gilda Radner succumbed to it. I don't fit the average profile – I am of Eastern European heritage, delivered 4 children and nursed each of them. But….
Nine years after my diagnosis/treatment, I learned of close paternal relatives in Poland diagnosed with ovarian cancer. Dr. Dolan sent me on to a geneticist, and my results came back positive for the BRCA1 genetic mutation. My two daughters and one brother also carry the mutation; one son does not, and the other has not yet been tested. Since I carried a high risk for developing breast cancer, I chose to have a prophylactic double mastectomy.
After chemo, I joined the Illinois Chapter of the National Ovarian Cancer Coalition. I was privileged to become Chapter President and later, National President. In those years, I met many strong girls, women and their loving families. Our advocacy includes parents of girls who succumbed at ages 6 and 7 to a juvenile form of ovarian cancer and girls diagnosed as young as 14 and 16 who are thriving. I represented NOCC at professional conferences and spoke with committed gyny-oncs and researchers about current advances. But there still is no early detection test for ovarian cancer.
My early diagnosis put me in the minuscule 20 percent bracket of long-term survival. Yet, many of the women that I have met were diagnosed in the late stages and are living with, and managing, this cancer, despite recurrences and various chemo protocols. They and their families are my heroines and heroes!
Besides appreciating the gift of life, I stress these points: Listen to your body. Early detection is vital. Be your own best advocate.  Know your family history. Try mightily to be referred to a gynecologic oncologist. Try to be referred to a major metropolitan area teaching hospital, with cutting edge physicians and staff and advanced treatment access and resources.
I wear my teal ribbon pin every day, everywhere; you'd be surprised how many conversations this awareness symbol has begun.
Hope dwells strongly in our ovarian cancer community.  That early detection test has to be just around the corner…
Related Posts
Comments
About the Author
Maria Ciesla, health enews contributor, is a ovarian cancer survivor. She was diagnosed with cancer in 1998 and stresses listening to your body and knowing your family history. She wears a teal ribbon everyday, everywhere she goes to promote awareness.