Survey: 3 in 4 people don't know this causes increased risk of cancer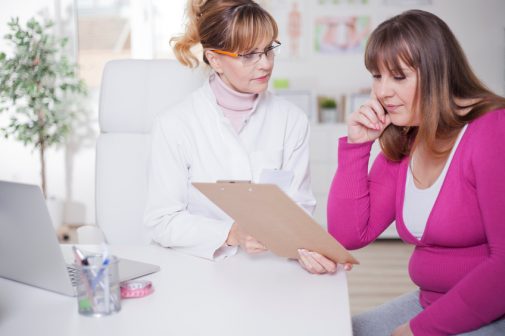 For those aware of the fact that obesity and cancer are linked, it may seem like common knowledge. Yet many people, 75 percent in the UK alone, don't know that obesity causes an increased risk of cancer, according to new research.
The nationwide survey, conducted as part of a report done by Cancer Research UK and the UK Health Forum, found that of the two sexes, men were less likely than women to know there is a link, and people from lower socioeconomic backgrounds were also less aware of the association.
According to the researchers, obesity is linked to 10 types of cancer and an estimated 18,100 cancer cases each year in the UK.
Of those surveyed, 78 percent were not aware obesity and ovarian cancer were linked, and 69 percent were unaware of the link to breast cancer. Fairing slightly better in terms of awareness, more people knew pancreatic cancer, liver cancer and bowel/colon cancer were linked with obesity by 47, 55 and 60 percent, respectively.
"After smoking, being overweight or obese is the biggest preventable cause of certain types of cancer," says Dr. Nada Sherman, a medical oncologist with Advocate Christ Medical Center in Oak Lawn, Ill.
"Being overweight leads to numerous health issues including Type 2 diabetes, obesity, heart attacks and other heart conditions, stroke and several non-genetic cancers," says Dr. Sherman, who encourages a healthy balanced diet and an active lifestyle to maintain a healthy weight.
"I always discuss the link between cancer and weight with my patients when discussing risk reduction," she says. As part of the discussion, she reviews the American Cancer Society's recently released guidelines regarding exercise:
Adults should get at least 150 minutes of moderate intensity or 75 minutes of vigorous intensity activity each week (or a combination of these), preferably spread throughout the week.
Children and teens should get at least one hour of moderate or vigorous intensity activity each day, with vigorous activity at least three days each week.
One quarter, or 25 percent, of all UK adults are estimated to be obese, according to Cancer Research UK. The report estimated that "if current trends of being overweight and obese continued, there would be a further 670,000 cancer cases over the next 20 years," with those in lower income groups having the highest increase in cancer.
According to the Centers for Disease Control and Prevention, in the United States, 37.9 percent of adults aged 20 years and older are obese, while a whopping 70.7 percent are overweight or obese. The number of children who suffer from obesity in the US is disheartening, with 9.4 percent of children ages 2-5, 17.4 percent ages 6-11 and 20.6 percent ages 12-19.
"The longer a child struggles with weight, the greater the likelihood the child will have weight issues as an adult," says Dr. Ola Kawadry, a pediatric endocrinologist with Advocate Children's Hospital in Oak Lawn. "It's important to address the importance of proper nutrition and physical activity prior to the development of obesity – at the first sign a child is becoming overweight."
"Breaking the cycle for obesity in childhood will be instrumental in lowering incidents of non-genetic cancers going forward," says Dr. Sherman.
A support program to address childhood obesity is available through Advocate Children's Hospital ProActive Kids (PAK), funded by Advocate Children's Hospital. It teaches kids and their families fun ways to improve health through exercise, nutritional lessons and open discussions over eight weeks. This life-changing experience is offered free to kids ages 8-14 who want to learn new exercises, lose weight, eat right and be more confident. The Fall 2016 session runs from Sept. 19-Nov. 11 at the Oak Lawn Ice Arena. For more information and to enroll, click here.
Related Posts
Comments
About the Author
Kate Eller was a regional director of public affairs and marketing operations for Advocate Health Care. She enjoys road trips, dogs, minimalism, yoga, hiking, and "urban hiking."