How to prevent a fall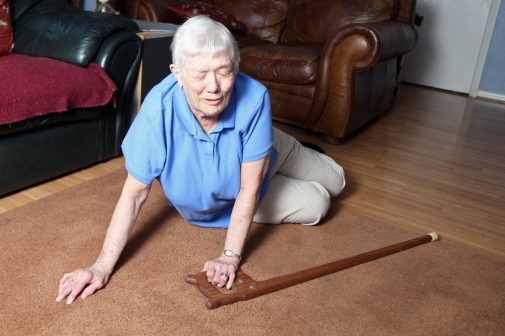 Falls are a problem across all age groups, but they are particularly concerning in the elderly population. In fact, they are one of the leading causes of injury, illness, and death among older people. Roughly 40 percent of all individuals over the age of 65 living at home will experience at least one fall every year, and many of these falls result in a hospital stay.
They are debilitating for this population because older people fall more frequently and often have underlying health issues. They are more prone to falling because with age comes factors like slower reflexes, loss of balance and unstable gait. They are also more at risk because of physiological factors like memory loss, muscle weakness, vision decreasing, blood pressure issues, osteoporosis and arthritis, to name a few.
"As a rehabilitation physician, I see too many patients in the hospital who were admitted due to falls," says Dr. Susan Zuckerman, a physiatrist at Advocate Sherman Hospital and West Court in Elgin, Ill. "Often patients will stumble or have other near misses at home and just brush it aside, minimizing these kind of events."
Dr. Zuckerman recommends preventative measures to lower the risk of a fall, and if they do happen, to ensure they do not occur frequently. They include:
Address dizziness. If the patient is falling due to an underlying illness, such as fluctuating blood pressure, his or her doctor can regulate their blood pressure medications to prevent dizziness. It is also very important for older adults to have their vision examined every year and be monitored for vision changes.
Exercise regularly. Exercising is crucial to preventing falls. Exercise programs for older individuals can help with muscle tone and increase strength in their muscles and bones. Exercising can also help improve balance. Many exercise programs are tailored for seniors, including walking programs, senior yoga, Zumba Gold and swimming classes.
Safeguard the home. Older individuals, as well as family members, can make sure that the items in their homes are not contributing to falls. Loose rugs or mats, electrical cords, off-balanced furniture, slippery floor tiles and dim lighting can all be hazards for someone who is at risk for falls.
It is important to know each individual's risk factors for falling so that appropriate action can be taken to minimize the likelihood of a fall. Although it is not possible to prevent 100 percent of falls, knowing and addressing the key causes is critical to prevention and reducing fall numbers.
"With some education and a little consideration, I think people could be safer at home," assures Dr. Zuckerman. "Just sitting for a moment before we stand and walk is enough to avoid a trip to the hospital and minimize risks."
Related Posts
Comments
About the Author
Megan Monsess is marketing and admissions specialist at Advocate Sherman West Court. She's worked in health care for 8 years and graduated from Northern Illinois University with a bachelors in Public Health. She's an avid Cubs fan and enjoys riding her bike in her spare time.