From high risk pregnancy to breast cancer diagnosis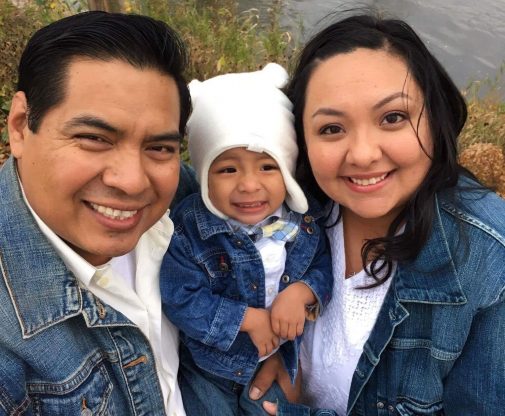 My husband and I had been happily married for eleven years, and five of those years were dedicated to trying to get pregnant. As happy as we were, it was exhausting trying for so long.
Then in 2013, the moment we had been waiting for unexpectedly became our reality when I found out I was finally pregnant. My husband and I, as well as our families, were ecstatic to welcome our baby into the world around February 14, 2014.
I was thrilled to finally be pregnant, but I still planned to live my life the way I had always lived it. My nickname was not the "Energizer Bunny" for nothing. That was until I was diagnosed as a high risk pregnancy because of a small protein leak and my fertility issues. Bed rest was what the doctor ordered. Around this same time, my doctor noticed some cysts on my ovaries, but I was told that would be examined after I delivered my baby boy.
Unfortunately, being on bed rest was not enough. Soon my blood pressure rose to the point where I had to be admitted into Advocate Sherman Hospital, and I continued to lose a lot of protein. It was during this time I began to advocate for myself and take ownership of my health while in the hospital.
On December 23, 2013, I was rushed to the emergency room for a C-section. My baby boy was born weighing only 2.10 pounds. He had to stay at the NICU at Sherman Hospital until almost late January. I had begun exclusively breastfeeding, as my baby was lactose intolerant.
In May 2015, I felt a small size lump on my left breast. I knew it wasn't normal, but it was assumed by my primary doctor to be breast milk-related.
But then my lump became hard as a rock, the size of a lemon, and my nipple began to invert and change to an orange peel texture. That week, my primary doctor performed my first breast exam, and having all of the typical symptoms of breast cancer, I was rushed to get a mammogram and a breast ultrasound at Advocate Sherman Hospital.
At 32 years old, I had my first mammogram, and I saw the black blob right over where I had felt the lump. I was told that my biggest tumor was 4-5 centimeters. After a biopsy and a follow-up, I was diagnosed with stage IV metastatic breast cancer.
I was understandably devastated, but then I thought of my son and how God made it possible for me to have this miracle baby. He had fought so hard for his life, and I knew that I had to fight for my life, for him.
I was now motivated to begin my fight with all I had, but the difficult news wasn't over yet. On Thanksgiving Day, I had an MRI which showed an abnormality around my liver and ovaries. After a PET scan, I was informed that the cancer was also in both of my ovaries.
My battle with breast and ovarian cancer had begun.
To be continued…
My Cancer Journey, Part Two: Treatments, Surgeries & Advocacy coming in October
Related Posts
Comments
About the Author