Rising concern for cat scratch disease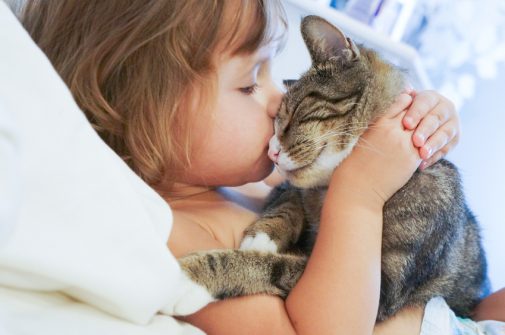 Could your sweet little kitten end up sending your child to the hospital? A recent study by the Centers for Disease Control and Prevention reports there has been an uptick in the number of people hospitalized for cat scratch disease. While very rare and a worst case scenario, it can lead to serious heart and brain issues.
Cat scratch disease is a bacteria, cats and more likely kittens, get from fleas. They can pass it along to humans by licking an open wound or breaking skin with a scratch or a bite. Young children are most often affected.
Between 2005 and 2007, only 3.5 percent of those infected were hospitalized for the disease. That rose to 4.2 percent between 2011 and 2013. While over 12,500 people are diagnosed each year, Dr. Robert Citronberg, Director of the Division of Infectious Disease at Advocate Lutheran General Hospital in Park Ridge, Ill., says the study should not be cause for great concern.
"The actual increase in those hospitalized in the study was very small," says Dr. Citronberg. "No one should overreact. First of all, cat scratch disease is not that common, and for most, the only symptom is redness or a blister near the area affected. For the vast majority of those diagnosed, the disease simply goes away on its own."
If symptoms persist, cat scratch disease can be treated with an antibiotic.
"People just need to use common sense," says Dr. Citronberg.  "If there is severe redness, swelling, bumps or a fever after a scratch or bite, you will want to seek medical advice."
Sometimes, a bite on the arm can result in a swelling in the armpit, or a scratch on the foot can lead to similar swelling in the groin. That's something to keep an eye out for.
"If there is swelling in either the armpit or groin and it lasts for a couple of weeks, you should get it checked," says Dr. Citronberg. "You'll want to also get immediate attention if there is streaking up and down the leg or arm."
Some tips from the CDC for reducing your risk include:
Keep your cats indoors; don't let them prowl outside
Use flea control products
Wash your hands and your child's after touching your cat
Researchers admit the study has some flaws due to the data that was examined, which included limitations regarding both the age and insurance of those participating.
Related Posts
Comments
About the Author
Evonne Woloshyn, health enews contributor, is director of public affairs at Advocate Children's Hospital. Evonne began her career as an anchor and reporter in broadcast news. Over the past 20 years, she has worked in health care marketing in both Ohio and Illinois. Evonne loves to travel, spend time with family and is an avid Pittsburgh Steelers fan!