"This is what I'm meant to do"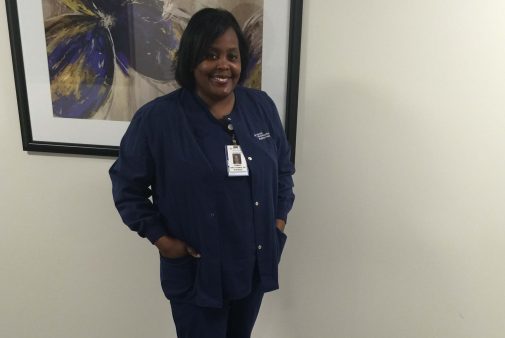 This is what I'm meant to do. I have been a nurse since 1999, and I've worked at Advocate Illinois Masonic Medical Center in Chicago ever since I was a nursing student. For the past four years, I've worked as an oncology nurse at our Creticos Cancer Center.
Working with cancer patients every day brings a new perspective that not many people have, and for that I feel truly blessed. We get to know our patients—and their families—so well, and we see them through good days and bad, amazing outcomes and heartbreaking news, easy decisions and hard ones. In my opinion, it's a privilege that they let us into their lives during this time.
My day usually begins before everyone else's. I get into the hospital around 6 am to go over the patients we have scheduled for the day and sort their charts. This is my favorite part of the day, and being prepared in advance helps the rest of the day run so much more smoothly.
Once the clinic opens at 8 am, I team up with my BFF, Dr. Sangeetha Nimmagadda, and we start seeing patients together until 2:30 pm when the clinic closes.
The dynamic Dr. Nimmagadda and I have makes us a great team. She's the perfect doctor for me and I'm the perfect nurse for her (in my opinion, at least!) When we see patients, we have a rhythm thanks to our great chemistry and open working relationship. Our medical assistant, Evonne Rodriguez, rounds out our Dynamic Trio! Throughout the day, we see patients with a wide variety of conditions, from lung and breast cancer to non-cancerous blood disorders.
There are definitely difficult moments—there are times when I just have to step away or I know I'm going to cry. There was a period in my career when I thought I was done with nursing altogether. I didn't think I could take the heartbreaking conversations anymore.
But, just when I thought I was done, a patient opened my eyes to how full of blessings life can be. She was one of the many blessings that have come across my path while working as an oncology nurse.
It's patients like her who inspire me with their strength as they experience a life-altering diagnosis and treatment journey. For example, today I saw a patient who came in to go over scans, which show that her stage IV cancer is stable. Her grace and positivity in the face of this challenge inspires me. Every time I see her, she is always smiling. When you ask her how she is doing, it is always something positive—she is just a joy. Her smile and gratitude is why I get up every day and come here.
After the clinic closes, I make follow-up phone calls and schedule tests for my patients. Throughout the day, I also try to answer my phone whenever a patient calls. These patients have cancer. They have enough to worry about—they don't need to go to voicemail.
After I wrap up my phone calls, I head home to start my second job as a proud mom to three amazing kids who don't ever let me sit down and relax! I help with homework and hear about their day at school, and lately, the conversation has been about what fall activity they want to start at school (art or choir).
Even though some days are both physically and emotionally exhausting, I wouldn't trade this job or life for anything else. This is what I am meant to be.
And if you want to learn and see more, I'm taking over Advocate Masonic's Instagram Tuesday, October 4th. Follow along at @advocatemasonic on Instagram.
Related Posts
Comments
About the Author
Tamiko King-Thomas is an oncology nurse at the Creticos Cancer Center at Advocate Illinois Masonic Medical Center in Chicago. She lives in Chicago with her husband and three children.