Does pumpkin spice have health benefits?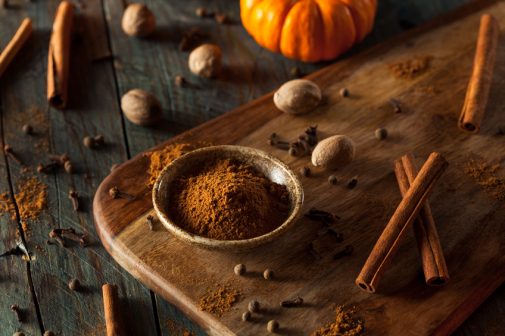 With fall in full swing, the pumpkin spice craze is slowly filling the aisles of supermarkets and coffee shops alike. With an abundance of options, you might wonder though, is pumpkin spice healthy?
Madhu Jain, a dietitian at Advocate Good Shepherd Health and Fitness Center in Barrington, Ill. says there are, in fact, numerous health benefits to pumpkin spice.
"Pumpkin spice is a mix of different spices with cinnamon being the most abundant one," Jain says. "Cinnamon has an active compound called Cinnamaldehyde which is responsible for cinnamon's health benefits. There is some evidence that cinnamon may fight inflammation, increase HDL, lower triglycerides, LDL and total cholesterol, while improving your blood glucose sensitivity. "
Jain says pumpkin spice also includes ginger, which is known for its anti-inflammatory properties and may help with pain management. It can also be very helpful in treating nausea.
Finally, nutmeg and allspice are also in pumpkin spice and can help relieve symptoms of abdominal discomfort.
"Spices not only enhance the flavor of food, but also add natural flavors and decreases our dependency upon added fat, sugar and salt," says Jain. "This is a huge incentive to adding spices to our repertoire."
Need some ideas for adding pumpkin spice into your diet. Some healthy recipe tips include:
Yogurt (make a yogurt parfait with granola, fruits of your choice, canned pumpkin (approximately 4 tb. spoons) and nuts of your choice. Layer and enjoy!!) + Pumpkin spice
Oatmeal (sprinkle some pumpkin spice on)
Almond/peanut butter (use as dip) + Pumpkin spice
Kefir (with a little honey) + Pumpkin spice
Toast (nut butters + fruit + Pumpkin spice)
Substitute sugar in your coffee with pumpkin spice
And to make pumpkin spice on your own, try this easy recipe.
1/4 cup ground cinnamon
4 teaspoons ground nutmeg
4 teaspoons ground ginger
1 tablespoon ground allspice
Mix all the ingredients & enjoy!
Related Posts
Comments
About the Author
Jacqueline Hughes is a former manager, media relations at Advocate Health Care and Aurora Health Care. Previously, she was the public affairs and marketing manager at Advocate Lutheran General Hospital in Park Ridge, IL. She earned her BA in psychology at Stanford University in Palo Alto, California. Jackie has 10 plus years experience working in television and media and most recently worked at NBC 5 in Chicago. In her free time, she enjoys swimming, going to the movies and spending time with her family.