Touching lives in meaningful ways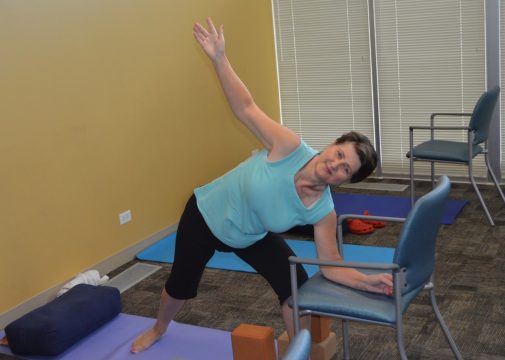 Mary Palacz goes to exercise class every day. On Wednesday and Thursday, she enjoys yoga. On Monday and Friday, it is cardio and stretch. But when Mary climbs into her car each morning, she isn't headed to a fitness club. Instead, Mary goes to the Cancer Survivorship Center on the campus of Advocate Lutheran General Hospital in Park Ridge, Ill. It's a place where Mary has found friendship and support.
Diagnosed with Stage 4 carcinoma more than two years ago, Mary has had surgery, chemotherapy and radiation. She still goes back for additional treatment every few months. At the age of 60, Mary thought the abdominal pain and nausea she felt at work might be a heart attack. Instead, it was cancerous tumors on her gallbladder and liver.
It was a friend who suggested she stop at the Cancer Survivorship Center. It's been a great place for Mary to connect with others about more than just cancer.
"You feel like you have something in common with everyone, and there's no judgment," says Mary. "We talk about everyday things like family, work and sometimes, we just need to air out our grievances." Mary says the environment is encouraging, supportive and motivating.
"I love the exercise, but crochet class is also very relaxing," Mary adds.  The Center provides a safe place for participants to enjoy special activities—everything from art class to chair massage and nutrition classes.
"The Cancer Survivorship Center is all about touching lives in meaningful ways," says Dr. Sigrun Hallmeyer, an oncologist at Advocate Lutheran General Hospital in Park Ridge, Ill. "We started with five classes and hoped to encourage people to come together and share a common bond, as well as have some fun. Currently, we have 70 weekly activities. The success of the Center has been amazing."
For Mary and other cancer survivors, the Center has become an essential part of the recovery process.
"The healing power of cancer survivorship comes to life here every single day," says Dr. Hallmeyer.
Related Posts
Comments
About the Author
Sonja Vojcic, health enews contributor, is a marketing manager at Advocate Health Care in Downers Grove, Ill. She has several years of international public relations and marketing experience with a Master's degree in Communications from DePaul University. In her free time, Sonja enjoys spending time with her family, travelling, and keeping up with the latest health news and fashion trends.