The complex link between breast cancer and pregnancy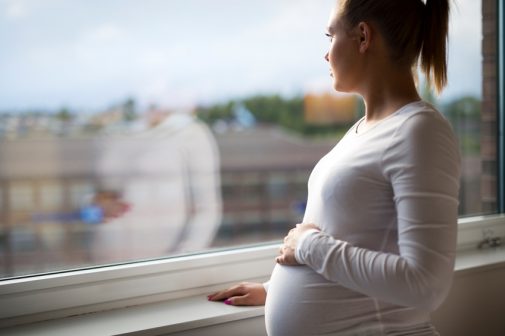 The link between breast cancer and pregnancy is complex. While pregnancy is a time of hormonal changes and breast development, a breast cancer diagnosis is rare, but a reality for some expectant women.
"Breast cancer is the second most common malignancy seen during pregnancy," says Dr. Nikki Neubauer, a gynecological oncologist at Advocate Good Samaritan Hospital in Downers Grove, Ill.
Breast cancer is found in nearly one in every 3,000 pregnant women, according to the American Cancer Society. It is often detected during pregnancy, while breastfeeding or within the first year of delivery.
"During pregnancy, if a woman feels any new changes in her breast or experiences new or abnormal nipple discharge, she should talk to her doctor right away. If she feels that her concerns are not being taken seriously, she should be persistent until they are addressed," says Dr. Neubauer.
When a pregnant woman develops breast cancer, it is often diagnosed at a later stage due to hormonal changes and breast development. For example, breasts may become larger, lumpy and tender, which can make it more difficult to notice a lump caused by cancer until it becomes quite large.
"Patients are often diagnosed with advanced disease because we do not screen for breast cancer during pregnancy, as we try to avoid radiation and mammography. In addition, it's hard to diagnose because of the changes happening in the breast tissue during that time," Dr. Neubauer says.
If breast cancer is suspected, a mammogram is thought to be fairly safe, since the amount of radiation is small and focused strictly on the breast versus other parts of the body.
"Treating a pregnant woman with breast cancer has the same goal as treating a non-pregnant woman: control the cancer and keep it from spreading. But the extra concern of protecting a growing fetus may make reaching these goals more complex," according to the American Cancer Society.
Dr. Neubauer says it's important to explore all options available to ensure the best treatment for the mother and the well-being of the fetus. The obstetrician, surgeon, oncologist and radiation oncologist will work together to develop a treatment plan that best fits the mother's medical needs.
Related Posts
Comments
About the Author
Johnna Kelly, healthe news contributor, is a manager of public affairs and marketing at Advocate Christ Medical Center in Oak Lawn. She is a former newspaper reporter and spent nearly 10 years as a public relations professional working for state and county government. During her time as a communications staffer for the Illinois General Assembly, she was integral in drafting and passing legislation creating Andrea's Law, the nation's first murderer registry. In her spare time, she volunteers at a local homeless shelter, enjoys traveling, photography and watching the Chicago Bulls.