Helping women kick cancer's butt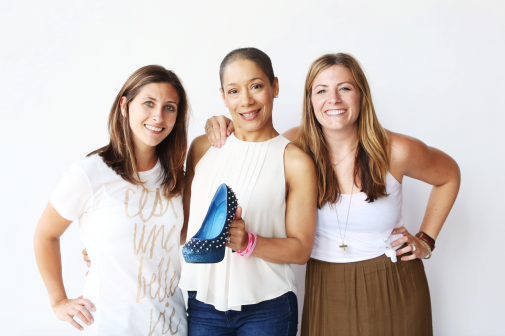 It's funny how after you have cancer, everything is so measurable. Five years since I was diagnosed. Three months until my next appointment.
Especially when you are in it. You know exactly how many days until your next treatment. How many days of radiation you have left. How many minutes before your hair starts growing back. You can quantify anything down to a science.
For me, it's been four years since I've been cancer-free. And as much as I love that number…there's one I'm even more proud of. Exactly one year ago, my best friend and I took something as dark and depressing as cancer and turned it into something that literally sparkles. We officially launched our company, Healing Heels.
When I was going through treatment, my best friend gave me a pair of 5-inch, sparkling, spike-covered stilettos and called them my chemo shoes. Because in those shoes I was going to kick cancer's butt.
They became something I looked forward to during chemo (which is very rare), and they made me feel invincible. So once my fight was over, we knew it was time to help other women feel the exact same way.
Over the last year, we have surprised more than 100 women with their own pair of Healing Heels. A pair of shoes that reminds them just how powerful they are.
Something that doesn't make them feel sick or like a patient….but something that makes them feel like a woman. A simple gift that gives them a little piece of themselves back when so much is being taken away.
Recently, we got together with some of our Sole Sisters—a term of endearment we use for the girls who have received our shoes—and we asked them to tell us one word to describe their Healing Heels.
Hearing words like "powerful" "unstoppable" and "fierce"—to name a few—choked me up. If you had asked me before what I was most proud of, I would have said beating cancer. But now, my answer would 100 percent be these girls.
Seeing first-hand that life inside them and knowing that, in a tiny way, I helped put it there…it's something so much more than I could ever explain. Watching them blaze this trail of complete and utter positivity. Kicking cancer's a** with a smile on their face. And knowing that this year is only the beginning.
I'm so excited for what's next. So excited to touch even more women's lives. And more confident than ever that in the right pair of shoes…you really can do anything.
Related Posts
Comments
About the Author
Lauren Truelock is a photographer who lives in Indianapolis with her husband, Gary. She was diagnosed with breast cancer at the age of 26. She and her best friend, Sidne Hirsch - the one who bought her the chemo shoes - run a company called Healing Heels, a line of kick ass shoes for women fighting cancer.