Changing the lives of Latin American teenagers forever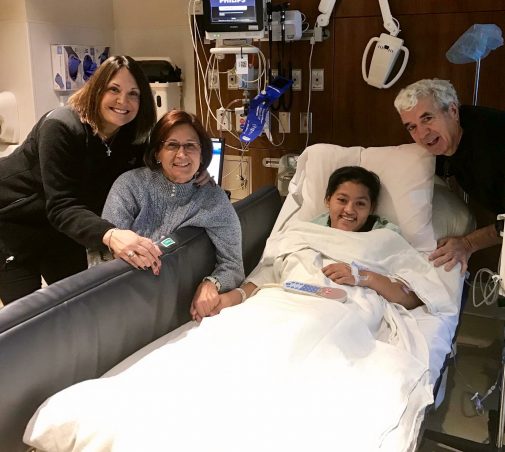 Something to be thankful for? Twice a year, Chicagoland cardiologists change the lives of Latin American teenagers forever.
Through a charity program, Healing the Children, young men and women from El Salvador, Guatemala, Nicaragua and Jamaica have traveled for the first time out of their home countries to receive life-changing procedures at the Advocate Heart Institute at Advocate Good Shepherd Hospital in Barrington, Ill..
Two teenagers recently became the charity program's 29th and 30th patients at Advocate Good Shepherd.
Alejandra Fabioloa Romero Aguilar, 14, and Christian Alexander Cubias Rivas, 16, are both from El Salvador and have Wolff-Parkinson-White syndrome (WPW), a condition where the heart's upper and lower chambers cause rapid heartbeats due to an extra electrical pathway. Some of the symptoms of WPW include shortness of breath, rapid heart rate and heart palpitations.
Alejandra and Christian's overall quality of life is hindered due to WPW. They can't participate in a lot of activities that normal teenagers do because their hearts won't allow them. While they have never traveled outside of El Salvador before, this month, that changed, when they flew across the Gulf of Mexico to suburban Chicago to receive a life-changing surgery.
Cardiologists Dr. Mehran Jabbarzadeh and Dr. Eric Kessler, along with a team of nurses and caregivers, completed a cardiac ablation procedure on each of the teenagers.
A cardiac ablation procedure finds the areas causing the abnormal heart rhythm, which allows doctor to use mild radio frequency heat energy to prevent the abnormal electrical signals from occurring.
Dr. Kessler says he feels honored to have played a part in improving these teenagers' lives and those of all the past patients involved with the charity program.
"Like most physicians, I entered the field because I was excited and gratified by the opportunity to make a positive impact on people's lives," says Dr. Kessler. "That's why this is such a great program; we are able to provide access for these children that they would otherwise likely never receive, and the benefits will last them a lifetime. I can't believe we're already celebrating our 30th patient."
Alejandra and Christian will remain in Barrington as they rest and recover for the next couple weeks after their procedure.
What a perfect example of feeling grateful and giving back after the Thanksgiving holiday.
Related Posts
Comments
About the Author
Liz Donofrio, health enews contributor, is a marketing specialist at Advocate Health Care. As a newlywed, she is happy to be done planning her wedding and enjoying spending time with her husband and new extended family. In her free time, you can find Liz cooking new tasty recipes for her family, attending Chicago sporting events and chasing after her shih tzu-yorkie, Buttons.