The latest early morning craze will keep you full for hours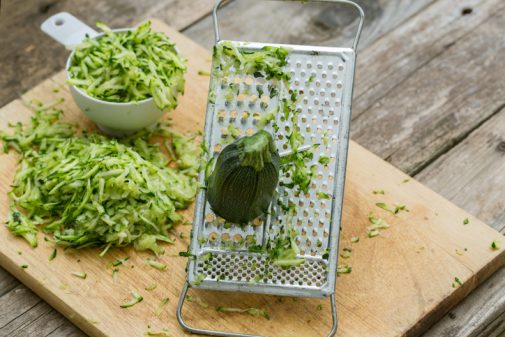 Have you heard the word zoats tossed around lately? It sounds like a made up word your child might say, but in fact it's a catchy name for zucchini oatmeal.
Why is this funny sounding word catching on so quickly with people looking to spice up their diet? Not only does it give your morning bowl of oatmeal a nice green glow, but zucchini is known to have lots of volume to keep you feeling full for longer. As a healthy vegetable, it's also low in calories and is almost tasteless, so it makes your morning oatmeal more substantial, keeping the hunger pains away for longer without adding unnecessary extra calories.
Madhu Jain, a dietitian at Advocate Good Shepherd Health and Fitness Center in Barrington, Ill., adds that many Americans are struggling to eat the recommended servings of fruits and vegetables.
"Fruits and vegetables are rich in much needed nutrients in addition to fiber, which is one important nutrient for boosting your metabolism," she says. "While most people are able to eat some fiber at lunch or dinner, they often lag behind at breakfast. One of the biggest hurdles at breakfast is how to incorporate any veggies in there. And that's where zoats come in."
When you add zucchini to the oats, Jain says, you are adding one serving of the much needed green veggie right into your bowl. The zucchini in the oatmeal will also boost the fiber in the oats, and help accelerate your metabolism while keeping you feeling full.
Looking for some other breakfast ideas that can help you incorporate your much needed veggies? Jain's suggestions include:
Veggie omelet (add mushrooms, spinach, green onions, peppers to your regular omelet)
Veggie sandwich (add veggies of your choice to your favorite sandwich; it adds great flavor and crunch)
Veggie wrap
Quinoa salad (with beans, corn, celery and peppers)
Veggie stir-fry (toss in frozen veggies of your choice in a saucepan while you prepare your favorite breakfast; takes about 5-10 minutes)
Related Posts
Comments
About the Author
Jacqueline Hughes is a former manager, media relations at Advocate Health Care and Aurora Health Care. Previously, she was the public affairs and marketing manager at Advocate Lutheran General Hospital in Park Ridge, IL. She earned her BA in psychology at Stanford University in Palo Alto, California. Jackie has 10 plus years experience working in television and media and most recently worked at NBC 5 in Chicago. In her free time, she enjoys swimming, going to the movies and spending time with her family.