The power of silence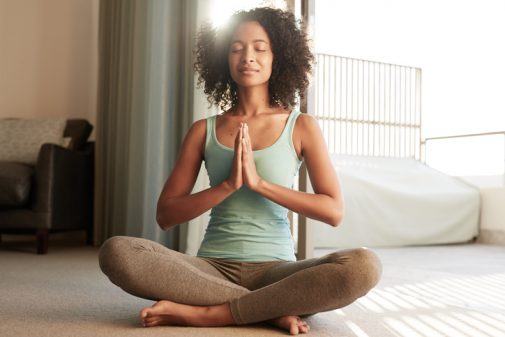 My journey of learning about the power of silence began when I enrolled in the 200-hour Yoga Teacher Training at Himalayan Yoga and Meditation Center in Palatine.
It was my first day of training when Diane McDonald, the director of the center, announced that our tradition does not use music while teaching. Well, I just about passed out, because I love music! The radio is always on, whether in my car or home. The idea of not being able to teach to music concerned me. It concerned me so much that I thought of looking into a different training program. And while I did check into a couple of alternate programs, I kept coming back to HYMC.
So I started going to Pat Constabelio's Friday Himalayan lunch time class at the Center. Pat's class left me relaxed and energized! Without the music, I could focus on my inward journey and the sensations I was experiencing in my body, mind and spirit.
I decided to stay with the training and see where it would take me. Just a few months in, I had a student/volunteer at the Center ask if I had ever gone to a silent retreat. I replied no, and proceeded to explain that it would be hard for me and I'm such a chatter box that they probably wouldn't accept me. The conversation intrigued me, so I checked out a few programs, but never actually enrolled.
However, in my research, I discovered that there is an annual silence day in the traditions of India. It is called Mauni Amavasya. Mauni means 'of or for silence,' and Amavasya means 'no-moon day.' The practice of Yoga has a yearly tradition inviting teachers and students to take part in this one day of silence. You are encouraged to talk only if you have to, at your job, for example. All other communication, including TV, radio, e-mails, phone, and texts, are not supposed to be used. So, in January 2014, I decided to participate in this tradition and welcomed the opportunity to try it. I was working at school that day, and I was teaching one yoga class at night. It was such an amazing experience! From my experience, I learned to conserve my energy more constructively and felt more joy.
A little over a year after I graduated from yoga teacher training, I had an amazing thing happen to me. I was driving along with my radio on and then just turned it off. It was at this moment that I was grateful for the power of silence. From here, I began to learn that the power of silence wasn't just about external silence. We can't always just turn off the sounds around us. But that's when I found the joy of going within. It didn't matter what was going on around me, I learned that I could retreat within at any time.
Learning to meditate is part of the yoga training program. When I first began, it was very difficult. I found that I was stiff, and it was uncomfortable to sit for long periods of time. Additionally, my mind would jump from thought to thought, sometimes known as monkey mind!
Now I can't imagine my life without meditation. It can be seated, walking or in my yoga practice. For me, meditation has taught me to come to the silence within even if life is externally loud. I focus on my breath and observe my thoughts. Sure, those thoughts are jumping around. I simply notice and acknowledge them and then go back and focus on my breath. I focus on the shape and pace of my breath, and I simply notice the thoughts I'm having and take a moment to deal with them after meditation or later in the day.
The power of silence for me has given me hope and faith that I have a place that I can retreat to anytime, anywhere and just BE.
I can hear myself think. I've received answers to my questions/prayers. A lot of creativity also surfaces for me. On the other hand, some tough thoughts or memories can surface up, too. The benefit of all those outcomes is that an individual gets an opportunity to receive and acknowledge the thoughts and questions and grow on their journey.
Related Posts
Comments
About the Author
Karen Fotopoulos is a yoga instructor at the Advocate Good Shepherd Hospital Health and Fitness Center. She enjoys teaching yoga to people of all ages and abilities. Her attention to detail and ability to offer options to fit each individual student's needs, allows the student to completely relax, practice within their comfort zone and ability, and become more aware of their breath and the sensations in their body.