Articles by "Karen Fotopoulos"
Karen Fotopoulos is a yoga instructor at the Advocate Good Shepherd Hospital Health and Fitness Center. She enjoys teaching yoga to people of all ages and abilities. Her attention to detail and ability to offer options to fit each individual student's needs, allows the student to completely relax, practice within their comfort zone and ability, and become more aware of their breath and the sensations in their body.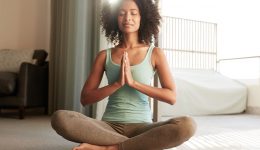 A yoga instructor explains how she's able to conserve her energy, feel more joy and quiet the external noise through yoga and meditation.