Five lessons I've learned from loss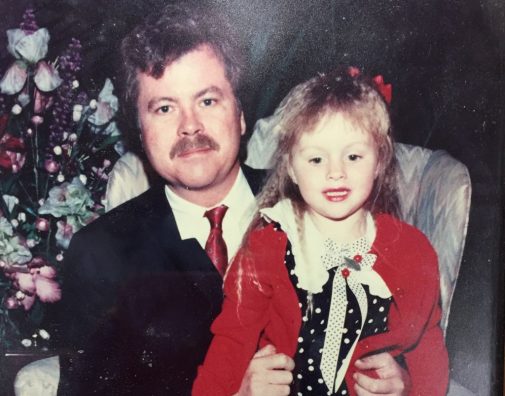 My dad, Mike, was a man of many words. He was an attorney by trade, and he loved to argue, tell stories and teach lessons. He loved to travel, watch Packers football and have a good laugh. He had the unique ability to push your buttons while simultaneously earning your respect. He was the most authentic person I have ever met; he always held true to himself and his beliefs.
And I was always a daddy's girl. When I lost him last March at the age of 62, I felt an emptiness that I had never known. I'm an only child and lost half of my immediate family with the death of one parent. I lost my go-to for advice. I lost my biggest fan. I lost my dad.
How do you ever replace someone so larger-than-life? What about the life events he will miss? How could I move forward without him?
Losing a parent is a weird initiation process that unfortunately almost everyone will go through. It's heart-wrenching and overwhelming. But as difficult as his loss has been, I have learned some invaluable lessons (just like he would have hoped) that have helped shaped me as a person.
Grief is not linear. There are days when I am okay, and then there are the days when I am brought to tears by a Rolling Stones song. I have learned the best thing you can do is feel the feelings and remember that being sad means that your loved one made a huge impact on your life.
Be vulnerable. Vulnerability is often confused with weakness. I have learned that it is the complete opposite; being vulnerable is one of the most courageous things you can ever do. Let people in, let your truth show and let yourself be yourself.
Things will never be the same, nor should they be. No one will ever replace my dad. But I have made new traditions and redefined what family means. I became closer to some rock star aunts, uncles and cousins. I had friends who surprised me on my birthday; friends who flew me out of town for a weekend; and friends who sat on the phone with me in silence to make sure I was never alone.
Gratitude and pain can cohabitate. I have learned it is possible to feel two emotions at once. While I have often been overwhelmed with pain, I have felt blessed to find gratitude for the time I did have with him and for all the blessings he brought to my life.
The ones we love are always with us. I see my dad in my sense of humor, my sarcasm and my undying love for disco music. I hear his little quips of wisdom just when I need them. Reminders of his love are always there.
When I struggled with decisions or got caught in the material nature of life, he would always say, "Janine, it's not about what you have or don't have, it's how you like your life." I think about that often as I walk through this new "life" without him.
I will miss my dad every single day, but I know the best way to honor him is to move forward and do my best to like my life and be happy – that's what he would have wanted.
Related Posts
Comments
About the Author
Janine Sheedy is a public affairs and marketing manager at Advocate Health Care in Downers Grove. She holds a B.A. in communications from Loyola University New Orleans and an MBA from Loyola University Chicago. She has more than seven years of communications experience, most recently serving as a public relations and marketing manager for the Illinois Hospital Association. In her free time, she enjoys traveling, reading and Green Bay Packers football. On September 9, 2017, Janine will be running for the coveted Musky Queen title at Wills Northwoods Inn.