Finally, an answer to why you're so hooked on LaCroix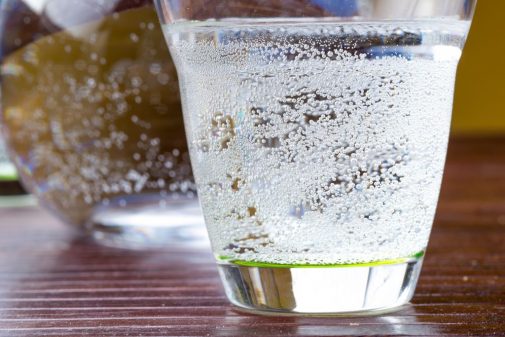 If you're like many people who resolved to ditch the sugary drinks this year, you may be reaching for LaCroix multiple times a day. But why does it taste so good if it's 'just water'? And are you constantly reaching for an ice cold beer on a hot summer day? What is it that makes the two drinks so refreshing?
A recent study revealed that, in fact, cold, carbonated beverages are better at quenching thirst than their counterparts.
"Thirsty humans often prefer beverages that are both cold and carbonated including: mineral waters, seltzer, sodas and beers," researchers found. For a while, that fact had been a no-brainer, but it wasn't until recently that researchers discovered the "why" behind it.
The study, from a group of scientists from the Monell Chemical Senses Center in Philadelphia, found that it all came down to the "chill and the bubbles."
As a part of the study, 98 individuals in the age range of 20 and 50 were asked to go without food and drink the night before arriving at the lab. Once there, participants were given a breakfast of white toast with jelly before resting. After some time, the subjects were then asked to rate their thirst—all went with "strong" or above.
Next, subjects were given five minutes to drink 13 and a half ounces of water, which varied by group. While some were given regular water, others were given carbonated water—all with varying temperatures from room temperature to ice cold. Following the allotted five-minute period, all 98 participants were allowed to drink as much water as they wanted, as long as it was room-temperature and non-carbonated.
Ultimately, the researchers found that cold liquid reduced thirst more effectively than room temperature. The addition of carbonation to a cold beverage "further enhanced the beverage's thirst quenching properties." Later testing of the thirst-quenching effects of astringency, sweetness, and mild acidification showed no effect, "supporting the specific effects of cold and carbonation on thirst reduction."
"Our results confirmed what people tend to naturally do when they are thirsty: drink a cold and often carbonated beverage to feel a sensation of relief," said Catherine Peyrot des Gachons, PhD, also a sensory biologist at Monell and the study's lead author.
Now what? Well, scientists aren't advising us to down a Coca-Cola when thirsty. They say this study is just the beginning because thirst is actually quenched long before your body has time to absorb the consumed liquid, so any signs your body uses to make you stop drinking remains unknown.
"Unsweetened carbonated water, such as LaCroix or Perrier, are great thirst-quenchers and can be an excellent stand-in for those wanting to cut down on sugary sodas," says Dana Artinyan, a registered dietician at Advocate Illinois Masonic Medical Center. "Swapping a can of soda for a LaCroix saves 140 calories and 10 teaspoons sugar, which can really add up for individuals who drink several cans daily."
So, while a cold LaCroix might not the best answer for everyone, at least now you know why it tastes so darn good.
Related Posts
Comments
About the Author
Kelsey Sopchyk, health enews contributor, is a media relations coordinator at Advocate Aurora Health. She earned her BA in journalism and mass communications from the University of Iowa. In her spare time, you can find Kelsey tending to her plant children, trying new sushi restaurants in Chicago and cheering on the Cubs.