Hospital volunteer credits $49 heart scan for saving his life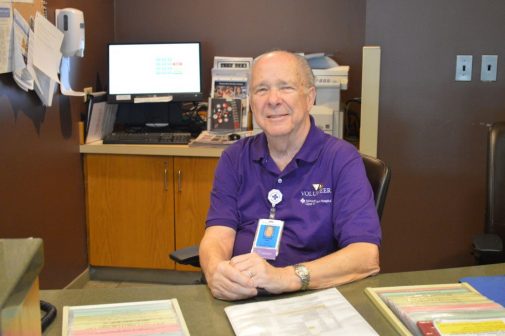 As a volunteer at Advocate Good Samaritan Hospital in Downers Grove, Ill, Bob Hurdle shows patients where to access blood work and x-rays and helps family members connect with loved ones following surgery or the birth of a baby.
During a hospital leadership meeting, the retired dentist and vice president of the Auxiliary learned about a heart healthy CT scan that was available for $49. The non-invasive, painless screening checks for any problems that could lead to a heart attack. Hurdle, 79, thought the price was right for the elective test.
"Up to this point, I didn't have any symptoms and lived a very active lifestyle. I had never spent a minute as a hospital patient in my entire life. But I said to my wife, this is something we should do," says Hurdle, whose parents both suffered from fatal heart attacks in their 60s and 70s.
Hurdle scheduled the heart healthy CT scan and learned that there was cause for concern. Based on the results, his doctor ordered an echocardiogram and an angiogram that indicated a 90 percent blocked artery.
A few days later, Hurdle underwent an angioplasty procedure to open the artery with a stent. After two days in the hospital, Hurdle was sent home to recover.
"I went home from the hospital feeling fine and asked the doctor how soon I could get back on the golf course," he says. Six days later, he resumed his golf game and active lifestyle.
Cardiologist Dr. Thomas Discher of Advocate Heart Institute at Advocate Good Samaritan Hospital in Downers Grove, Ill., commends Hurdle for being proactive in his health care.
"If you don't ask the questions of whether you possibly have coronary heart disease, by the time you find out it may be too late. In this regard, Bob had a great outcome. By asking questions and following up on the results, he underwent a successful stent procedure in the main artery that restored blood flow and helped get him back to his regular routine," says Discher.
Realizing how close he was to suffering from a heart attack, Hurdle is a proponent of preventative health care and offers the following advice:
Don't wait until symptoms develop. Follow through on annual physicals and screening tests. Just because you feel good doesn't mean everything is ok.
Know your family's health history. Your family history holds important clues about your risk to develop heart disease as well as asthma, diabetes and cancer.
Dr. Discher said the heart healthy CT scan is recommended for those 35 and older who have not been previously diagnosed with heart disease, do not have a pacemaker and have at least two of the following risk factors:
Diabetes
High blood pressure
High cholesterol
Family history of premature heart disease
Men over age 45
Women over age 55
Obesity
Smoker
For more information on the healthy heart CT scan, visit www.advocatehealth.com/heartscan.
Related Posts
Comments
About the Author
Johnna Kelly, healthe news contributor, is a manager of public affairs and marketing at Advocate Christ Medical Center in Oak Lawn. She is a former newspaper reporter and spent nearly 10 years as a public relations professional working for state and county government. During her time as a communications staffer for the Illinois General Assembly, she was integral in drafting and passing legislation creating Andrea's Law, the nation's first murderer registry. In her spare time, she volunteers at a local homeless shelter, enjoys traveling, photography and watching the Chicago Bulls.