Love it or hate it, what's the 411 on red meat?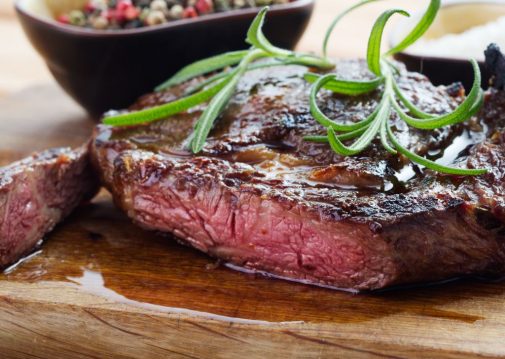 Think about your refrigerator and freezer contents. Are you seeing red?
Consumption of red meat has decreased nearly every year, with the average American consuming about 104.8 pounds of red meat in 2015, a 40-pound drop since 1976.
The World Health Organization classifies red meat as "all mammalian muscle meat, including beef, veal, pork, lamb, mutton, horse and goat." The organization also released a study in 2015 concluding that there is evidence pointing to the carcinogenic effects of consuming red meat.
So should you be trimming red meat from your diet altogether?
"In my opinion, the agriculture of pork and beef production is a resource-intense and increasingly environmentally suspect way to raise food," says Dr. Stephen Bennett, director of the family medicine residency program at Advocate Christ Medical Center in Oak Lawn, Ill. "I believe a food system based on whole grains, vegetables and fruits and modest portions of fish and poultry—known as the Mediterranean diet—is not only healthier than a red-meat based diet, but is more resource-efficient and environmentally responsible."
So much so that Dr. Bennett recommends the Mediterranean diet to all his patients. "There is virtually no red meat in this diet style, although the system itself offers a very diverse set of cuisine options," he says. "The Mediterranean diet has been linked to better health outcomes, including lower mortality."
But if you just can't let go of red meat entirely, Dr. Bennett suggests the following:
Stick to lean cuts of meat.
Prepare your meat by roasting, baking or stir-frying.
Do not consume a portion size of more than 6-8 ounces.
Abstain from eating red meat more than once a week.
Related Posts
Comments
About the Author
Holly Brenza, health enews contributor, is the public affairs coordinator at Advocate Children's Hospital. She is a graduate of the University of Illinois at Chicago. In her free time, Holly enjoys reading, watching the White Sox and Blackhawks, playing with her dog, Bear and running her cats' Instagram account, @strangefurthings.