4 out of 5 women believe in this phenomenon–but is it true?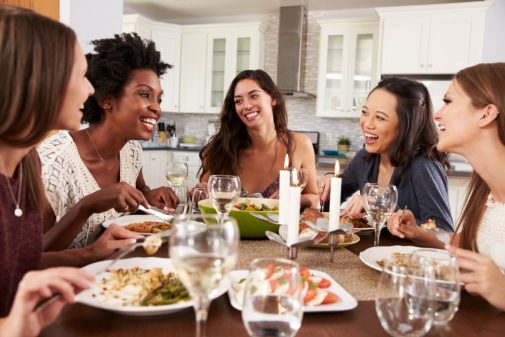 You have most likely heard a pair or group of women say that their menstrual cycles are "synced up." That's because according to a study, 80 percent of women believe in the phenomenon. But is it true that coworkers, sisters or roommates experience a menstrual cycle synchronization?
"While many women do report synchronization of menstrual cycles, I've not read literature from any of our accredited sources that confirm it," says Dr. Nichole Butler, OB/GYN at Advocate Christ Medical Center in Oak Lawn, Ill.
The first research on this concept dates back to 1971, when a researcher determined college students living in a dormitory experienced an increase in the synchronization of onset dates, but more recent research found errors in the study model. Subsequent data found no significant evidence of synchronization.
Instead, what might seem like a syncing up of your period with close friends or family may be a short-term, random synchronization that will most likely align and unalign in accordance with your own cycle's regularity, or lack thereof.
Dr. Butler says that most women's cycles are relatively regular, but she says that may not mean what you think.
"A regular cycle does not necessarily mean your period occurs on the same date each month," she says. "Rather, it's about falling within a regular ovulation/menstrual cycle."
Irregularity does not always indicate a problem, but it can be a sign of an underlying health condition. And irregularity can be a source of stress to many women.
"I've found that once a woman knows how to count the days of her cycle, she is generally able to identify her natural cycle," she says. "This is a source of comfort for them."
So instead of thinking your coworker's Premenstrual syndrome (PMS) is a sign your period is on its way, visit your OB/GYN to discuss your own body and any concerns you may have.
Interested in learning more about women's health issues?
Join Dr. Butler; Dr. Denise Furlong, urogynecologist; Dr. Karen Johnson, OB/GYN; and Gail Gorecki, lactation consultant, this Saturday, March 4 from 10 am – 2 pm for an in-depth discussion.
The event is free, but registration is encouraged. Register here.
Related Posts
Comments
About the Author
Holly Brenza, health enews contributor, is a public affairs coordinator on the content team at Advocate Health Care and Aurora Health Care. She is a graduate of the University of Illinois at Chicago. In her free time, Holly enjoys reading, watching the White Sox and Blackhawks, playing with her dog, Bear and running her cats' Instagram account, @strangefurthings.