History in the making for adults with Down syndrome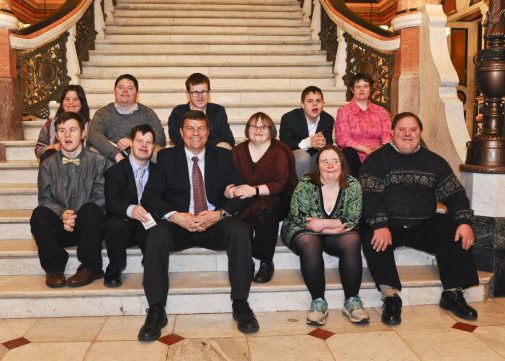 Who would have thought I'd be part of so many "firsts" because of my brother, Gary, and Advocate Medical Group's Adult Down Syndrome Center?
The latest "first" took us on a trip to Springfield to be recognized by Illinois lawmakers and to witness the reading of a resolution. The resolution declared March 15, 2017 as Adult Down Syndrome Awareness Day in Illinois – the first state in the nation to pass such a resolution.
Gary and I, along with our older brother, Gregg, were part of a coalition of patients and family members connected to the Adult Down Syndrome Center who made the trek to the state Capitol for the historic day. Various members of the Advocate Health Care team – community and health relations, government affairs, public affairs and the charitable foundation – organized the trip, and they all made it come together beautifully.
The moment arrives
Gary got up at 3 a.m. that morning (when he didn't need to wake until 6 a.m.) because he was so excited to see Dr. Brian Chicoine, medical director of the Center. Dr. Chicoine has cared for Gary since he moved back to the Chicago area 15 years ago, and Gary couldn't wait to experience this day with the doctor that always brings a smile to his face.
Gary, as well as Gregg and I, were in awe as we entered the Capitol building in all its grandeur and walked onto the floor of the House of Representatives for the first time, meeting several lawmakers.
Dr. Chicoine educated legislators about the past, present and future of the Center he founded 25 years ago. We were in the presence of a pioneer, someone who dedicated his career to serving adolescents and adults with Down syndrome starting in 1992. I stood entranced, taking in the magnitude of our state Capitol surroundings and the situation. This was history in the making.
As all legislators were called to the floor, we headed to the House Gallery, the balcony above the floor. Excitement was building among us, and smiles were huge as we stepped closer to the seating area above the House speaker's podium.
The House then was in session. Following a prayer, we all said the Pledge of Allegiance. A few minutes into the session, we were called to stand as Rep. Elaine Nekritz – a long-time supporter of the Center along with Rep. Mike McAuliffe – highlighted the impact the medical facility and its staff have made on lives of people with Down syndrome. It was the culmination of our trip. We all stood proudly as Rep. Nekritz asked legislators to pass Resolution H.R. 172 so that March 15, 2017 is now known as Adult Down Syndrome Awareness Day in Illinois. Lawmakers approved the resolution.
Best seat on the bus                                      
Just as meaningful for me and my siblings on this day-long trip were the connections and reflections on the six-hour round trip coach bus ride.
I met Tyler and Daniel, who told me they're housemates and have been happily for more than 10 years. I reconnected with Christine – glittered-filled manicure and all – who was still beaming from a big fundraising event where she introduced the evening's emcee, a Chicago TV anchorman. Her mother showed me photos of the event on her iPhone. And then there was Cathleen, who introduced herself and told me about her love for pancakes. She could eat them for breakfast, lunch or dinner. We're planning to go out for pancakes soon.
These patients I met all work, have full lives and like to stay connected with the Adult Down Syndrome Center.
Gary does, too. Seated next to him on the bus, I had a chance to listen in on some one-on-one time with Dr. Chicoine. Gary talked about his recent follow-up visit to the Center and his upcoming vacation plans. We recalled how Dr. Chicoine was instrumental in treating Gary's nonthreatening medical condition. Gary was one of the first patients to be admitted to a newly opened state-of-the-art wing at Advocate Lutheran General Hospital. It was excellent patient-centered care, and Gary received top-notch treatment.
I also reflected on the overall feel of the Adult Down Syndrome Center. From the moment we walk in, we feel welcomed. Gary knows he'll be well taken care of there. His questions will be answered, people will listen to him, and he'll be treated like any other man – with respect. As a man who feels good on some days and bad on others, a man who is joyful for all he has, but longs to achieve new goals in life. And a man who has struggles, and triumphs – he knows he's at a place where people "get" him, who understand his unique physical and mental health.
The ever-engaged and sincere Dr. Chicoine listened intently, interacted warmly, and wished Gary well at the end of their time together.
More history ahead
As the bus returned to Park Ridge, my siblings and I said our goodbyes, knowing that we'll see many of these friends – old and new – again as we engage further in the special, year-long celebration marking the Center's 25th anniversary. It's the oldest medical center in the country specializing in the care of adolescents and adults with Down syndrome.
To be part of this journey with the Adult Down Syndrome Center and to experience so many "firsts" along the way is truly special to my brothers and me. I'm grateful to have had the opportunity to pause for a day in this hurried and harried world to reflect on the past, enjoy the present and be hopeful for what the future brings because of the Adult Down Syndrome Center.
Related Posts
Comments
About the Author
Karyn Odway is a guest contributor for health enews.