Baby born with 4 legs, 2 spines thrives after miraculous surgery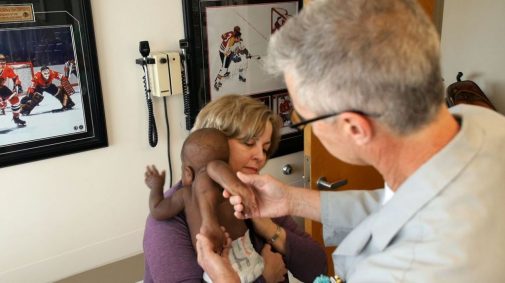 The outlook is "excellent" for a baby girl recovering after a complex surgery to remove her parasitic twin.
Now 10 months old, baby Dominique was born in the Ivory Coast, West Africa, with a parasitic rachipagus twin. Their spines were conjoined, and the bottom half of the underdeveloped twin's body – including waist, legs and feet – protruded from Dominique's neck and back until her risky but successful surgery March 8 at Advocate Children's Hospital in Park Ridge, Ill.
Dominique, who came to the U.S. for specialized medical care, is recovering after the surgery with her host family in Chicago while waiting to return home to her parents and siblings.
"When we met sweet Dominique … we thought about her family, far far away, trusting us, trusting the doctors that she had never met, trusting the escort that flew her halfway across the world," said foster mom Nancy Swabb, a Chicago resident. "There was a bond right away."
Without separation, Dominique's little heart and lungs would continue functioning for two people and, thus, shorten her lifespan. She also would have suffered from severe balance issues as she matured.
"The fact that the twins were conjoined at the spine makes Dominique's condition exceedingly unique and rare," said Dr. John Ruge, a pediatric neurosurgeon at Advocate Children's Hospital in Park Ridge, Ill. "It also made the separation surgery complex. But it was crucial to give this beautiful baby girl the chance to live a long and normal life."
A charity organization that helps children around the world receive medical treatment in the U.S. reached out to Dr. Ruge, specifically for his expertise in this specialty.
Five surgeons – specializing in pediatric neurosurgery, plastic, orthopedic and general surgery – collaborated for weeks to prepare for surgery ahead of Dominique's arrival. The team created a model of Dominique's two spines and developed a systematic approach to address the various neurosurgical, orthopedic and plastic surgery issues.
"There were many risks involved with detaching the parasitic twin, the biggest of which included paralysis, spinal destabilization and closure of a large defect," said Dr. Frank Vicari, pediatric plastic/reconstructive surgeon. "There also was a chance of impacting shared functions, such as the urinary function. Before going into the operating suite, our interdisciplinary team identified where the dangers would be and how we would minimize them. That way we were prepared for anything that could occur.
"And I'm pleased to say the surgery was a success and Dominique has an excellent prognosis."
Working closely together in the surgical suite, the surgeons removed the remnants of the conjoined twin from Dominique's back in six hours. The other three surgeons were Dr. Robert Givens Kellogg, pediatric neurosurgeon, Dr. Jordan Steinberg, pediatric plastic/reconstructive surgeon and Dr. Eric Belin, pediatric and adult orthopedic spine surgeon.
Other physicians, including pediatricians, radiologists, nephrologists, anesthesiologists, intensivists and geneticists consulted on the case. In all, more than 50 clinicians provided the baby's care in the operating room, pediatric intensive care unit, and on the pediatric unit.
Dominique is expected to return to her family in the Ivory Coast by early to mid April.
"She was so sweet and so ready to accept love and be affectionate and show affection. We knew that she was loved," Swabb said. "And so we thought every day, every moment about her family waiting for her return. I just feel really honored to be her family for a little while. "
Related Posts
Comments
About the Author
Lisa Parro, health enews contributor, is manager of content strategy for Advocate Aurora Health. A former journalist, Lisa has been in health care public relations since 2008 and has a master's degree in journalism from Northwestern University. She and her family live in Chicago's western suburbs.