10 simple breakfast options to help you lose weight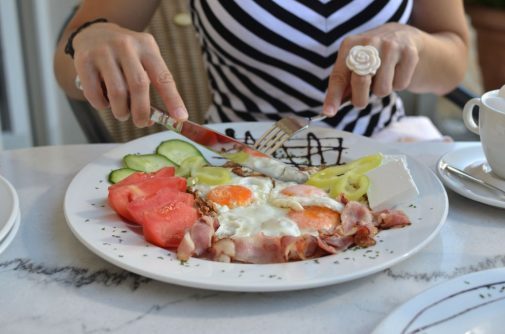 You've likely heard the phrase – breakfast is the most important meal of the day. But you can't just scarf down a doughnut or a muffin; it's what you eat that makes breakfast so important.
Melodi Peters, a registered dietitian at Advocate Good Shepherd Hospital in Barrington, Ill., says if you are looking to lose weight, you need to have a balanced meal. "All it takes to start the day off right are two things – complex carbohydrates and protein," advises Peters.
She explains that complex carbohydrates like whole grains, fresh fruit and vegetables raise your blood sugar, providing fuel or energy. Carbohydrates, however, have a high water content and are metabolized quickly, usually within 1- 2 hours. This causes your blood sugar to rise and lowers your energy level, making you feel tired and hungry, which can lead to craving a sugary snack.
On the other hand, protein is metabolized slowly, taking about 2-3 hours. When complex carbohydrates and protein are eaten together, the blood sugar rises slowly – providing energy – and protein stabilizes the blood sugar for several hours. To create a breakfast with staying power, complex carbohydrates and protein should always be eaten together.
In order to maintain or boost weight loss, here are 10 easy breakfast options Peters recommends:
Egg or egg substitute with vegetables and low fat shredded cheese on a whole-grain English muffin
Oatmeal with walnuts, fresh blueberries and skim milk
Whole grain cereal, skim milk and a piece of string cheese
Whole grain pita stuffed with a sliced hard cooked egg and vegetables
Low fat Greek yogurt with whole grain cereal and fresh raspberries
Whole grain waffle or tortilla with peanut butter, add a banana and roll it up
Leftover veggie pizza- for example, one with whole grain dough, olive oil and a healthy green
Slice of Canadian bacon on whole grain toast
Raisin toast with almond butter and skim milk
Trail mix made with whole grain cereal, nuts and raisins
"It's important to live a balanced lifestyle by eating right and exercising," says Peters. "But, starting your day off right with complex carbohydrates and proteins will help to kick start your day as a healthy individual."
Related Posts
Comments
About the Author
Liz Donofrio, health enews contributor, is a marketing specialist at Advocate Health Care. As a newlywed, she is happy to be done planning her wedding and enjoying spending time with her husband and new extended family. In her free time, you can find Liz cooking new tasty recipes for her family, attending Chicago sporting events and chasing after her shih tzu-yorkie, Buttons.