5 ways to fight cancer in the kitchen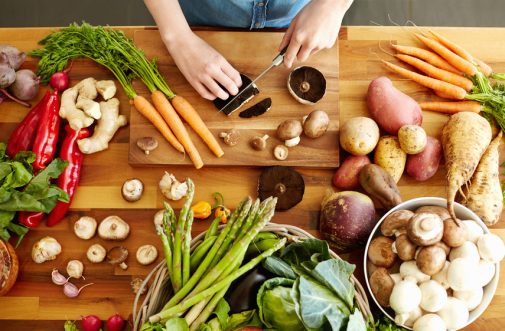 It's been proven time and time again: in addition to staying physically active and maintaining a healthy weight, eating a healthy diet can significantly lower one's risk of cancer. But what does a healthy diet look like exactly?
Stephanie Labrusciano, a clinical dietitian at Advocate Illinois Masonic Medical Center in Chicago, gives us five recommendations on how to fix the perfect cancer-fighting plate.
Look for those leafy greens. Eat a diet rich in plant-based foods, with an emphasis on vegetables, fruits, whole grains, beans, nuts and seeds. These food groups are rich in phytochemicals, which studies show help boost our immune system, slow the growth of cancer and prevent the kind of DNA damage that can give cancer a foothold in our bodies, Labrusciano says.
Go for lean proteins like fish and poultry as often as you can, but if you decide to eat beef, go for lean cuts like a top round steak or sirloin tip side steak. And when it comes to actually preparing your protein, Labrusciano recommends baking, broiling or poaching the meat, rather than frying or charbroiling. Limit or avoid processed meats, like bacon, lunch meats and hot dogs.
Follow the rule of thirds. Not sure how much of these food groups you should be eating? Remember this rule of thirds: "Generally speaking, you should try to fill 2/3 of your plate with vegetables, fruits, whole grains and beans, and the other 1/3 with animal protein," Labrusciano says.
Pass on the soda! Limit or completely avoid sugar-sweetened beverages, like soda and sports drinks that have large amounts of refined or processed sugars that could make our weight skyrocket. Obesity is a major contributing factors to a higher risk of cancer. Replace the soda in your fridge with unsweetened tea, flavored water or seltzer water instead, Labrusciano says.
Take fewer trips to the bar. While scientists don't completely understand how alcohol increases the risk of cancer, the link is undeniable: The more you drink, the more likely you are to develop cancer. If you can't completely cut out drinking from your diet, try sticking with just a couple rounds of your favorite drink. More specifically, Labrusciano recommends one drink per day for women and two drinks per day for men.
Related Posts
Comments
About the Author
Jaimie Oh, health enews contributor, is regional manager of public affairs and marketing at Advocate Health Care. She earned her Bachelor's Degree in Journalism from the University of Missouri-Columbia and has nearly a decade of experience working in publishing, strategic communications and marketing. Outside of work, Jaimie trains for marathons with the goal of running 50 races before she turns 50 years old.