Is this common stomach problem plaguing you?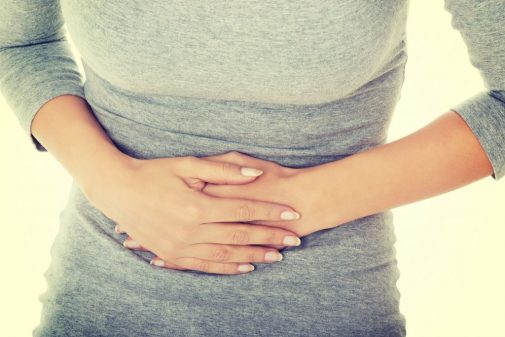 You've assuredly experienced hunger pains before, but if you feel a gnawing, burning pain in your stomach, you may be suffering from an ulcer.
According to the Centers for Disease Control and Prevention, peptic ulcer disease is a common illness that affects more than 6 million Americans each year.
"Most people have some form of symptom cluing them into the fact that something is not right, but there are many patients who may have small ulcers that are not causing symptoms," says Dr. Imad Elkhatib, gastroenterologist at Advocate Christ Medical Center in Oak Lawn, Ill.
While there are several causes for stomach ulcers, Dr. Elkhatib explains the most common cause is medication-induced—specifically nonsteroidal anti-inflammatories (NSAIDs) such as aspirin, ibuprofen and naproxen.
"Another common and important cause of stomach ulcers is infection with a specific bacteria, Helicobacter pylori. This bacteria is important to identify in patients with ulcers because eradication is necessary to resolve the ulcer, prevent recurrence and decrease the risk of stomach cancer in the future."
If your physician suspects you have an ulcer, he or she will typically refer you to a gastroenterologist for an upper endoscopy, a 5-10 minute scope that allows clinicians to look into your stomach and identify any ulcers. The procedure is usually done under moderate sedation and is a safe and effective way of diagnosing ulcers and ruling out other causes.
Dr. Elkhatib explains that treatment involves the initiation of a class of medicines known as proton pump inhibitors (PPIs) for 4-6 weeks combined with avoidance of NSAIDs. Your doctor may add a medication to help coat your stomach in order to reduce symptoms more quickly. And if your ulcer was caused by the H. pylori infection, you will receive a course of antibiotics. Sometimes, your gastroenterologist may recommend repeating the scope to ensure the ulcer has healed after treatment.
"Ulcers can be recurrent, especially if the initial cause is still present, such as the H. pylori infection or continued use of NSAIDs in the absence of stomach-protective medications," Dr. Elkhatib says. "It's important to biospy ulcers that aren't healing as quickly as expected to ensure they are not a form of cancer."
But he says the vast majority of patients are treated and fully healed with no future recurrence or permanent adverse effect.
"A common misconception is that stress can cause ulcers. While stress can most definitely induce stomach pains, cramps and a variety of gastrointestinal symptoms, research has not shown a direct link between stress and ulcers."
If you are experiencing persistent gastrointestinal symptoms, contact your primary care physician or gastroenterologist.
Related Posts
Comments
About the Author
Holly Brenza, health enews contributor, is the public affairs coordinator at Advocate Children's Hospital. She is a graduate of the University of Illinois at Chicago. In her free time, Holly enjoys reading, watching the White Sox and Blackhawks, playing with her dog, Bear and running her cats' Instagram account, @strangefurthings.