A surprise diagnosis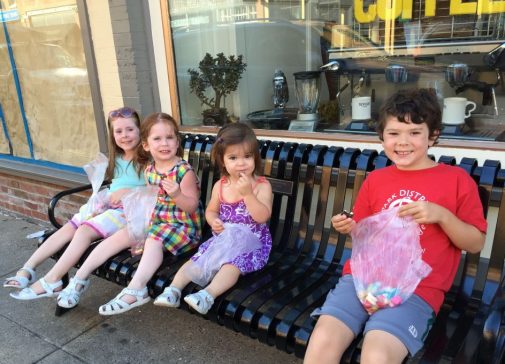 In summer 2015, I stumbled into a diagnosis of celiac disease almost by accident. I had been struggling with bloating for a long time and could not figure out the reason. While doing research on the internet, I discovered that bloating was a potential symptom of celiac disease. This raised a red flag for me because I had already been diagnosed with Hashimoto's thyroiditis which was, like celiac, an autoimmune condition. I knew that where there is one autoimmune disease, often there can be another.
I approached my endocrinologist about doing a test just to rule it out. I had the celiac bloodwork done, and the tests revealed probable celiac disease. We followed up with an endoscopy/biopsy which confirmed the diagnosis. This came as quite a surprise! Although I had been experiencing the bloating, I had always thought that celiac would come with the typical gastrointestinal problems like diarrhea and stomach aches, and I hadn't experienced any of that.
Fast forward a year, and I have now realized that the bloating was not related to celiac at all. I had a separate condition called diastasis recti which was causing it. I ended up having surgery to correct my torn stomach muscles, but the fact still remained that I had celiac disease. In a way, I'm lucky I was barking up the wrong tree before finding the correct reason for my bloating because without symptoms, I would never have been tested for celiac.
Goodbye Gluten
Once I had my diagnosis, my doctor told me to start a gluten-free diet right away. As a person who has never said "no" to a baked good of any kind, this was pretty bad news. I resolved to deal with it and try to remember that it could be worse!
I had a friend who was working at Advocate Lutheran General Hospital in Park Ridge, Ill. at the time, and she referred me to Carrie Ek for help getting started with the diet. My husband and I met Carrie, a coordinator at the Pediatric Celiac Center, and I felt a lot better about the diet after that meeting. Carrie was so warm and kind; she helped me feel less overwhelmed. I learned a lot about the gluten-free diet that day, and Carrie has continued to be a great resource.
But even after a year on the diet, I still have days where all I want is a giant loaf of French bread.
All in the family
During our meeting, Carrie let us know that our kids would need to be tested for the celiac gene. If they didn't have it, then we would need to do periodic screenings to see if they developed the disease down the road. After having all four of our children genetically tested, we expected maybe one to come back positive. But as luck would have it, all four carry the gene. This does not mean that they will all develop celiac, but it does mean there is a chance.
Once we had that information, we decided to attend Lutheran General Hospital's free celiac screening. We had our three oldest kids screened; the youngest is only 2 years old and too young for the test. Since none of them had ever had any symptoms that might lead us to suspect celiac, this was done just as a precaution. But once again, we were surprised—the results for our oldest son, Charlie, were strongly indicative of celiac disease.
Another diagnosis
We knew the drill this time; an endoscopy and biopsy would be needed to confirm the diagnosis. We met with pediatric gastroenterologist Dr. Esperanza Garcia-Alvarez, who was wonderful with Charlie and made him feel at ease. The results of the procedure came back positive for celiac. It also showed that there was already quite a bit of damage to Charlie's intestines from the disease. That's difficult to believe when you look at him since he is strong and healthy and has never had a symptom.
We had another meeting with Carrie; this time it was to get Charlie started on the diet.  He was very nervous going into the meeting and was worried about how going gluten-free would make him stand out from other kids. He kept thinking of more and more occasions—birthday parties, treats at school, baseball games, etc.—where it would be a problem.
Thankfully, meeting with Carrie really helped Charlie with his anxiety. When we left that day, he actually told me, "That was fun!" I can't say enough about Carrie and how good she is at her job! During our meeting, she was very positive as she talked directly to Charlie and clearly explained everything to him. It is great to know we have her and Dr. Garcia to help us navigate a gluten-free lifestyle with a third grader.
Looking ahead
In the future, our kids will continue to be screened for celiac, probably every three years or so. My husband, Conor, also needs to be screened since he is a first-degree relative to the kids. He has been dragging his feet a little on this, but he will be screened eventually.
Although it can be a pain to live gluten-free, I feel incredibly lucky that we ended up on a path that led Charlie and me to diagnosis. Left untreated, the damage from celiac can lead to major health problems, including cancer. So a test I did just to rule something out could have ended up saving both of us—and maybe others in my family—from serious health issues down the road.
While we do miss a good chocolate chip cookie (I have yet to find a suitable gluten-free replacement but I'm not giving up!), both Charlie and I know that we are taking positive steps toward good health. We are very lucky to have Dr. Garcia, Carrie Ek and the Celiac Center at Advocate Children's Hospital. Thanks to their expertise and care, we are in good hands!
National Celiac Awareness Month (May) promotes increased awareness of a disease that affects 3 million Americans. Celiac disease is an inherited digestive system disorder caused by an intolerance to gluten that affects the digestive process of the small intestine.
Related Posts
Comments
About the Author