Bad breath? This could be the cause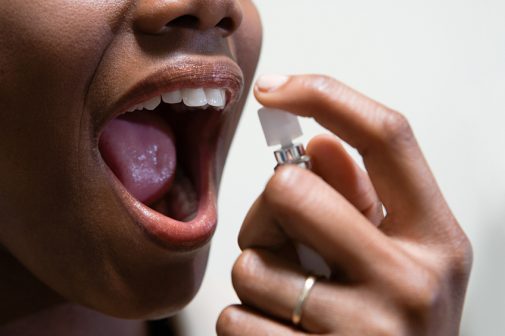 Consistently suffering from bad breath is not something that gum or breath mints will fix. Bad breath can actually be caused by severe dehydration. When dehydrated, you don't produce adequate saliva, which creates bacteria leading to bad breath.
Dehydration can happen to anyone, but some people are at greater risk including:
Older adults."When people age, their sense of thirst becomes less evident and they are not able to conserve as much water to prevent dehydration," says Dr. Kathleen O'Shea-Wilk, an internal medicine physician with Advocate South Suburban Hospital in Hazel Crest, Ill.
Those with chronic illnesses."Chronic illnesses such as diabetes, kidney disease and dementia, and the use of certain medications, can exacerbate dehydration," Dr. O'Shea-Wilk says. "However, even having a cold, sore throat or running a temperature can make you more susceptible to dehydration because it may hurt to swallow liquids, or you may not be able to replace lost fluids."
People who work or exercise outside."Your body is not able to cool itself as quickly as normal when it's hot and humid, which increases the risk of dehydration and heat illness," says Dr. O'Shea-Wilk. "Be sure to drink plenty of water. When it's really hot, consuming drinks with electrolytes in addition to water, like Gatorade G2, is a good idea, especially if it will encourage you to drink more. But, avoid caffeinated sodas, as those can actually increase dehydration risk."
A good rule of thumb to help avoid dehydration is to drink half your body weight in ounces of water daily. For instance, if you weigh 160 pounds, you should drink 80 ounces of water daily.
Besides dehydration, there are certain diseases and disorders that can contribute to a decrease in the amount of saliva produced (dry mouth) that can lead to bad breath, including:
"There are hundreds of medications, including many over-the-counter drugs, that produce dry mouth as a side effect," says Karen Gordon, pharmacy director at Advocate South Suburban. "Medications used to treat depression, high blood pressure and anxiety are more likely to cause dry mouth. So are more common-use drugs including antihistamines, decongestants, muscle relaxants and pain medications."
"Dry mouth symptoms can increase with age due to medication, poor nutrition, dehydration and having chronic health problems," says Dr. O'Shea-Wilk.
Autoimmune diseases, such as Sjogren's syndrome or HIV/AIDS.
Other health conditions.Diabetes, stroke, a yeast infection (thrush) in your mouth or Alzheimer's disease can increase the risk for dry mouth. So can cancer treatments and an injury or surgery to the head and neck area.
Sleeping habits. Snoring and breathing with your mouth open can lead to dry mouth. So can a dry room, so run the humidifier while the heater is on.
Drugs and alcohol. Drinking alcohol and smoking or chewing tobacco can increase dry mouth symptoms. Illegal drugs such as methamphetamine and marijuana are also culprits.
"If you notice dry mouth symptoms such as a feeling of stickiness in your mouth, difficulty chewing, speaking or swallowing, hoarseness in your voice, a constant dry or sore throat, a change in your sense of taste or bad breath, make an appointment with your doctor," says Dr. O'Shea-Wilk.
Related Posts
Comments
About the Author
Kate Eller was a regional director of public affairs and marketing operations for Advocate Health Care. She enjoys road trips, dogs, minimalism, yoga, hiking, and "urban hiking."