The woman behind the first-of-its-kind Adult Down Syndrome Center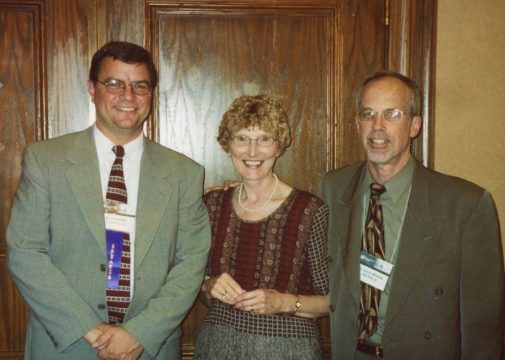 In 1972, Shelia Hebein and her husband welcomed their son Christopher into the world. Born with blonde hair and blue eyes at 7 lbs, 5 ounces, Chris was a happy baby. As their firstborn, he was the child the Hebeins longed for–but right away, they were informed of a diagnosis that would shape their lives.
Chris was born with Down syndrome, but the couple was fortunate enough to receive nothing but positive information from physicians and nurses upon his diagnosis. Sheila was puzzled yet not completely surprised to find this was not the case for all parents. In the early 1970s, the life expectancy did not look good for children with Down syndrome, and parents were often advised to institutionalize their child.
Building from the ground up
Sheila joined the National Association for Down Syndrome (NADS) as a board member when Chris was just 2 years old. When she became executive director in 1979, Sheila began educating medical professionals, developing training programs for parents and volunteers, providing family retreats, creating mentorship opportunities for adults with Down syndrome and even establishing a foster care and adoption program. She became widely known and heavily involved in the medical community, which led her to Advocate Lutheran General Hospital in Park Ridge, Ill.
Sheila's intent was always to sensitize the medical community to the fact that individuals with Down syndrome deserve medical care—and beyond that, respect and compassion. In the 80s, while serving on Lutheran General's pediatric bioethics committee, NADS began receiving calls from families of children with Down syndrome who needed better care for their adult sons and daughters. The pediatric care available was strong, but there just weren't clinicians who were familiar with the unique physical and psychosocial needs of adolescents and adults with Down syndrome.
Eventually, thanks to her persistence and support from key administrators, the hospital began dedicating two days a week to patients with Down syndrome in the lower level of one of the hospital's outpatient buildings. Dr. Brian Chicoine was brought on as medical director, and through a NADS partnership with the University of Illinois at Chicago, Dr. Dennis McGuire served as the director of psychosocial service. Sheila and "her boys," as Drs. Chicoine and McGuire were affectionately called, were off on a first-of-its-kind mission to change the care model for aging individuals with Down syndrome.
An advocate at heart, Sheila not only pushed for the founding of the Center, but pushed forward its growth as the team began to appreciate just how significant this unmet need for care was. Today, the Adult Down Syndrome Center (ADSC) serves patients five days a week, in a brand new, patient-centered facility, with a staff of 12. To date, the Center has served over 6,000 patients—Chris being one of the first. Over the course of 35-year involvement with NADS, Sheila made it her mission to develop awareness and services—she only dreamed the ADSC would turn into the center it is today.
Since her retirement in 2009, Sheila's roles have changed, but she continues to be an activist in the Down syndrome community. Chris, now 44 years old, is still a patient at the ADSC. Sheila describes Chris as an easy son—he developed regularly and has his own set of wonderful skills. He currently works 40 hours a week at Rotary International in Evanston as a mail clerk. He plays the piano every day, swims regularly, belongs to a drama group and does his aerobics regularly. He was one of four individuals with Down syndrome who created an aerobics program for NADS and he, along with another clinic patient, led aerobics at the ADSC for many years. In addition, Chris has been an altar server at St. Nicholas Church for over 30 years.
An international gem
Sheila insists the word "proud" doesn't suffice for the way she feels about all that the ADSC has accomplished over the last 25 years. Aside from the overall need for medical care and acceptance for adults with Down syndrome, there was a major outcry for research. Sheila commends Dr. Chicoine for jumping on board, considering they were sitting on a goldmine of data.
In addition to serving as the Center's Medical Director, Dr. Chicoine is the research director for the Family Medicine Residency Program at Lutheran General, where he has been since 1991. He is a consulting editor for three professional journals, including the Intellectual and Developmental Disabilities Journal and the Journal of Intellectual Disability Research. He has served as an author and collaborator on 13 articles and two books that discuss the medical, behavioral and lifestyle concerns of individuals with Down syndrome and their families. Both of Dr. Chicoine's books were co-authored by Dr. McGuire.
When the ADSC came to life in 1992, the life span for individuals with Down syndrome was 25 years. Today, the life expectancy is about 60. Initially, the clinic was seeing individuals with Down syndrome in their 30s and 40s who had never received medical attention before and for whom very little was known about their care needs.
Overall, Sheila feels most fulfilled by two things. First, that the Center is now serving a population that, 25 years ago, was not only underserved, but was not served at all. And second, the way the ADSC treats patients as people first. In her words, "Chris is always Chris before he is an individual with Down syndrome."
"All I ever wanted was for Chris to have choices once he became an adult," Sheila says. "Not only have we achieved that for Chris and many others, but we have created a community for a population that, at one point, nobody cared about, and, for the first time, we began meeting their needs medically and emotionally. The Adult Down Syndrome Center is truly an international gem—there is nothing like it."
Related Posts
Comments
About the Author
Kelsey Sopchyk, health enews contributor, is a media relations coordinator at Advocate Aurora Health. She earned her BA in journalism and mass communications from the University of Iowa. In her spare time, you can find Kelsey tending to her plant children, trying new sushi restaurants in Chicago and cheering on the Cubs.