Could a new technology help prevent cancer patients from losing their hair?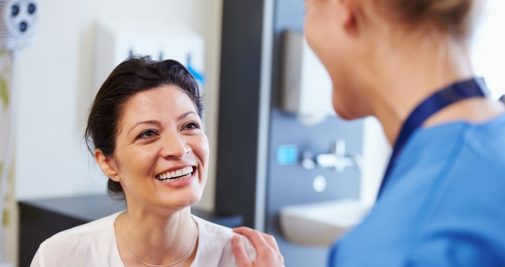 Mary Houvouras is a fighter.
She was diagnosed with two different types of breast cancer back in November of 2016, had a lumpectomy and underwent four rounds of chemo to fight that cancer. On top of that she recently started radiation treatments with Dr. Arica Hirsch. But for Mary fighting the actual cancer was only just part of the battle. In truth, she had another major concern.
"I was determined to not lose my hair," she recalls. "It's bad enough going through the process of a cancer diagnosis and chemotherapy, but to look in the mirror and see my hair gone, that was something I was determined not to go through."
Luckily for Mary, Dr. Sigrun Hallmeyer, an oncologist at Advocate Lutheran General Hospital, in Park Ridge, Ill. suggested she try a new breakthrough treatment option when she received her diagnosis. It was approved by the Food and Drug Administration last year and is designed to reduce hair loss for breast cancer patients. The treatment is called the Dignitana DigniCap Scalp Cooling System. It involves head gear that looks a little bit like a swimming cap that is filled with chilled gel. This narrows the blood vessels and keeps the chemotherapy away from reaching the hair follicles.
"I purposely didn't cut my hair because I didn't know what would happen when I started using the cold cap," Mary explains. "I've always had thick brown wavy hair and even after four rounds of chemo, it's amazing that people said they couldn't tell. Although my hair thinned and I lost the hair on the crown of my head, along with many others, I was amazed by the results."
Hair loss during chemotherapy can be one of the more distressing side effects, causing women to feel very self-conscious, explains Dr. Hallmeyer. In fact, for many patients, losing all their hair is more devastating than the chemo itself.
"When patients lose their hair, not only does it indicate to others that they are sick, but it adds an additional worry of trying to find a wig if they don't want others to know about their diagnosis," Dr. Hallmeyer explains.
For Mary, the cold cap was a game changer. "It made me feel like myself during the tiresome process," she emphasizes. "I looked in the mirror and recognized the person staring back."
Related Posts
Comments
About the Author
Jacqueline Hughes is a former manager, media relations at Advocate Health Care and Aurora Health Care. Previously, she was the public affairs and marketing manager at Advocate Lutheran General Hospital in Park Ridge, IL. She earned her BA in psychology at Stanford University in Palo Alto, California. Jackie has 10 plus years experience working in television and media and most recently worked at NBC 5 in Chicago. In her free time, she enjoys swimming, going to the movies and spending time with her family.