Here's why death may become less scary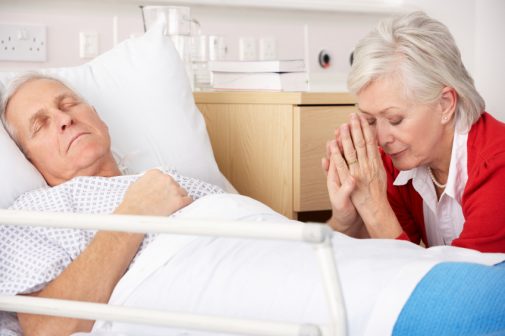 Does the thought of death scare you?
While you might think that just about everyone would answer "yes," this is not always the case. New research reveals that many people who are suffering from the later stages of a terminal illness report "unexpectedly positive" feelings.
Recently, two professors at the University of North Carolina conducted a study which revealed that dying patients are much more at peace with the thought of death than people who are not terminally ill. The professors read the blogs of 25 people who were suffering from various terminal illnesses (ALS, Cancer, etc.) but were still functioning cognitively. They also recruited 50 healthy people and asked them to start a blog as if they were dying of an illness. Then they had independent raters evaluate each post for its emotional tone. Overall, the healthy people who had to imagine they were dying were much less positive than the people who were actually terminally ill.
Lisa Fawkes, hospice nurse liaison for Advocate Hospice at Advocate Sherman Hospital in Elgin, Ill., says that although many terminally ill patients are at ease with knowing they are dying, it does vary from patient to patient.
"Some are peaceful and accepting, almost grateful for its arrival, while others internally struggle, which prolongs the end of life," Lisa states. "Most people aren't afraid of death as much as they are afraid of the dying process."
Hospice is one way of assisting people who are terminally ill by helping them find peace with dying. Hospice guides people who are sick to feel more comfortable and ensures that their last remaining days are lived to the fullest.
Lisa notes that studies have shown that many patients live longer on hospice and with more quality of life than those who continue to medicate with chemotherapy or radiation.
"I think that when people imagine what dying is like, they see it as being very different from the life they know," study author Kurt Gray said in a press release. "But really, death is part of life. And maybe you don't need to fear it as much as you might."
Related Posts
Comments
About the Author
Megan Monsess is marketing and admissions specialist at Advocate Sherman West Court. She's worked in health care for 8 years and graduated from Northern Illinois University with a bachelors in Public Health. She's an avid Cubs fan and enjoys riding her bike in her spare time.