World Series win gives birth to new Cubs Fans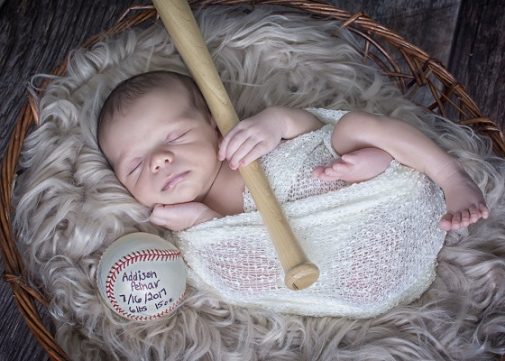 Cubs fans have more than a trophy to show for the Chicago team's victory in the World Series against the Cleveland Indians last year: they also have trophy babies. Those are the little ones starting to show up in Advocate Health Care hospitals nine months after the team's momentous achievement.
Whether this amounts to a Cubby baby boom has yet to be determined, but Advocate obstetrics managers report a wave of Series-related births among Cubs-loving parents.
"We were waiting for them," says Mary Terry, the Women and Infant Services manager and a registered nurse at Advocate Good Shepherd Hospital in Barrington, Ill. "We thought we'd see them showing up right about now."
As evidence, we have little Addison of Schaumburg and Theo of Barrington, both born at Good Shepherd (Wrigley Field is on Addison Street in Chicago, and the Cubs' shortstop is Addison Russell; the team's president of baseball operations is Theo Epstein.)
Addison's parents, Natalie and Joseph Pelnar, had just gotten married in 2016 and weren't trying to have a baby, but when the Cubs clinched a spot in the World Series, they decided to give it a try.
"We said to each other, 'Do you want to try just once?'" Natalie said. Well, the couple went 1 for 1 that day.
Less than 24 hours after the Cubs won the Series, Natalie took an early-response pregnancy test: Bingo! It was positive. They decided that a boy would be a Clark or an Addison. A girl might have been a Wrigley. The rest is history.
"We got engaged, married, the Cubs won the World Series and we found out I was pregnant all in 2016. What a year!" says Natalie, who decided to have her first little one at Good Shepherd in Barrington rather than closer to home in Schaumburg because she loves Good Shepherd's intimate OB environment.
"Our next baby definitely will be born at Good Shepherd," she says, noting that Dr. David Crandall delivered 6-pound, 15-ounce Addison.
All of this was fitting for a couple whose 2013 first date involved a wager over how soon the Cubs would win the Series. Natalie lost the bet, but both she and hubby won on a much bigger score.
Unlike Addison's parents, Theo's mom and dad, Erin and Dave Hettinger of Barrington, had been trying to get pregnant. Little did they know that the Cubs saved just a little magic for them on the night of the World Series triumph, when the couple decided to give their quest a bit more effort. They soon would find out that another little fan would be joining their roster. Weighing in at 7 pounds, 12 ounces, Theo was delivered by Dr. Thomas DiGiulio.
"Growing up, it was a sin in our house to be anything but a Cubs fan," Erin says. Thus, the last nine months have been a time of major acquisitions: Cubs toys and clothes, none more meaningful than the 1984 Cubs vintage jacket they received from Erin's godparents. Erin's grandparents had given it years ago to her cousin. When asked if she could picture little Theo wearing it someday, Erin chokes up and says, "That jacket is super-special."
Oh, and as for the name: Their dog had already taken Maddon, for team skipper Joe Maddon. So they went right to the top of the team organization: "Theo always felt right," Erin says.
So boom or not, is Cubs fever a "thing" in nurseries across the Advocate system?
It might be, it could be, it is!
Related Posts
Comments
About the Author
Kathleen Troher, health enews contributor, is manager of public affairs and marketing at Advocate Good Sheperd Hospital in Barrington. She has more than 20 years of journalism experience, with her primary focus in the newspaper and magazine industry. Kathleen graduated from Columbia College in Chicago, earning her degree in journalism with an emphasis on science writing and broadcasting. She loves to travel with her husband, Ross. They share their home with a sweet Samoyed named Maggie.