Committed to care: Special needs dentistry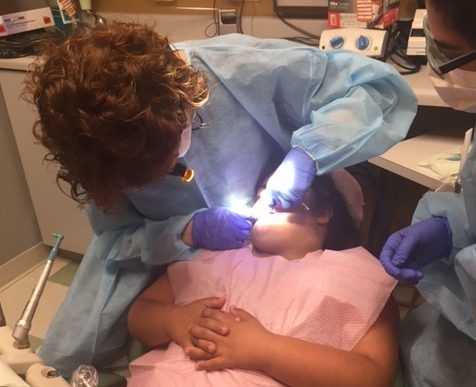 Dr. Jennifer Farrell found herself paging through Chicago Dental Society Journal when she noticed that Advocate Illinois Masonic's Department of Dentistry was looking for dentists who were interested in completing a preceptorship in special needs dentistry. Without hesitation, she decided to pursue it.
"I always knew that I wanted to devote my career to providing dental treatment to those with special needs," says Dr. Farrell. "It was quite difficult to find a program that provided an opportunity to learn how to care for this population of patients."
More than two decades later, Dr. Farrell now serves as director of the program. On any given day, she sees between eight and 10 patients ranging in age from two to 80-years-old.
Today, Dr. Farrell sees 10-year-old Jessica, a girl with Down syndrome.
Jessica, her mother Alice and her grandmother travel from Skokie, Ill. to the Illinois Masonic Community Dentistry clinic for her visits– a short journey compared to others. Dr. Farrell says some patients drive five to six hours to visit the clinic, and one used to fly in from Miami.
"We love her. Jessica loves her," says Alice as she beams a smile toward Dr. Farrell. "We accidentally came a week early, and Jessica didn't want to leave."
Jessica was born at Advocate Lutheran General Hospital in Park Ridge, Ill., and still goes to the hospital for regular doctor's visits.
"We are an Advocate family," says Alice.
The Special Patient Dental Care Program provides routine dental care to adults and children with developmental disabilities, including Down syndrome, autism and cerebral palsy. This program is one of a handful in the country, even employing a dental anesthesiologist who administers sedation on severely disabled patients.
One-third of the special needs patients who visit the clinic are on Medicaid. Grants and other philanthropic support cover many of the services and play a key role in making sure these men and women get the care they deserve.
As Jessica's visit ends, Dr. Farrell pulls out a "treasure box" for Jessica to select a toy. Jessica immediately hugs Dr. Farrell.
"Every patient in the Special Patient Care Program will be treated, regardless of their physical, intellectual or behavioral challenges. I know this population can be easily dismissed. It is my mission to make sure they receive the proper dental care," says Farrell. "We don't turn anyone away."
Related Posts
Comments
About the Author
Janine Sheedy is a public affairs and marketing manager at Advocate Health Care in Downers Grove. She holds a B.A. in communications from Loyola University New Orleans and an MBA from Loyola University Chicago. She has more than seven years of communications experience, most recently serving as a public relations and marketing manager for the Illinois Hospital Association. In her free time, she enjoys traveling, reading and Green Bay Packers football. On September 9, 2017, Janine will be running for the coveted Musky Queen title at Wills Northwoods Inn.