What is the link between degenerative brain disease and contact sports?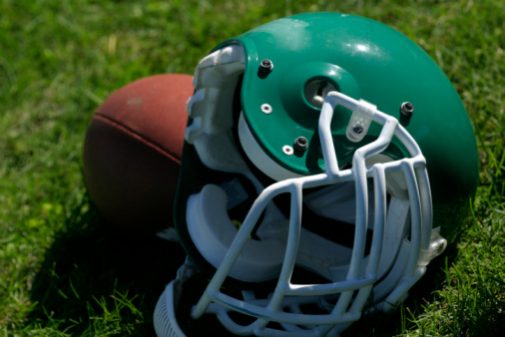 A recent study published in the medical journal JAMA reports Chronic Traumatic Encephalopathy, also known at CTE, was found in 99 percent of former NFL players' brains that were autopsied after being donated to scientific research. 
CTE is a degenerative disease in which a protein called Tau forms clumps and slowly spreads throughout the brain, killing a person's brain cells. CTE is often found in individuals who have experienced repeated hits to the head and is most commonly found in veterans and football players, especially professional football players.  
In the study, CTE was identified in 110 out of 111 former NFL players, including Ken Stabler, Kevin Turner, Bubba Smith and Dave Duerson, as well as 177 other players across all levels of play.  
"Advancing imaging studies on small groups of patients with pathologically confirmed CTE have revealed structural changes in the brain including atrophy, or loss of brain volume, accumulation of abnormal proteins and damage to the white matter underlying many of the brain's connecting circuits," says Dr. Andrew MacDougall, a neurologist at Advocate Lutheran General Hospital in Park Ridge, Ill.  
"Common symptoms include headaches, incoordination, irritability, memory loss, personality changes and depression," says Dr. MacDougall. "The signs and symptoms of this condition may manifest in the acute period or, more commonly, later in life. There has also been some preliminary data to suggest that patients with CTE may be at a greater risk of developing other neurodegenerative diseases, such as dementia, Parkinson's disease or amyotrophic lateral sclerosis (ALS)." 
Unfortunately, there is not a treatment for CTE yet. Physicians are just beginning to understand the disease and its cause, but efforts are underway towards finding a treatment plan to help ease symptoms and raise awareness.  
"Our understanding of this condition is only just beginning, but this new study is the largest of its kind," says Dr. MacDougall. "Additional efforts are underway in better clarifying who is most at risk for developing CTE and how best to prevent it."  
Concussion prevention is key in sustaining the quality of life for contact sport athletes. In recent years, Illinois Governor Bruce Rauner signed Senate Bill 7 to extend the efforts taken to educate individuals about concussions. This law includes protocols for concussed student athletes and requires training courses for coaches, athletic trainers and other health care professionals. With concussion prevention on the rise, it is also important for players and parents to consider the benefits and risks of playing in contact sports.   
Related Posts
Comments
About the Author
Danielle Sisco, health enews contributor, is a recent graduate of Illinois State University and a former public affairs and marketing intern at Advocate Lutheran General Hospital and Advocate BroMenn Medical Center. She has a Bachelor's of Science Degree in public relations and is currently working at a public relations agency in Chicago. In her free time, Danielle enjoys going to country music concerts, playing volleyball, traveling, blogging and spending quality time with her family, friends and puppy.