Are these the unhealthiest meals on U.S. menus?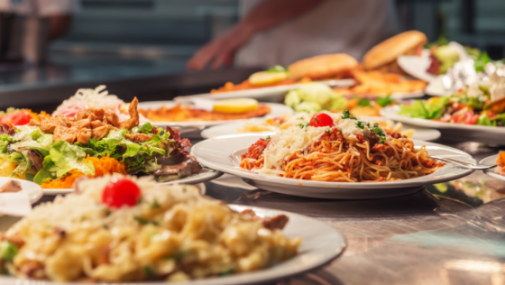 Looking to make healthy choices when browsing the menu at your favorite restaurant chains?
You may want to steer clear of these calorie-packed options. The Center for Science in the Public Interest recently released a run-down of some of the unhealthiest food orders in America in their annual compilation, the "Xtreme Eating Awards." Here are some of the highlights from the list:
IHOP's Cheeseburger Omelette with Pancakes, Butter & Syrup
This not-so-original breakfast combo consists of an egg omelette filled with hamburger patty chunks, fried potatoes, tomatoes, onions, processed American cheese, ketchup, mustard and pickles. When ordered with a side of three buttermilk pancakes, a popular pairing at the restaurant chain, this meal reaches a staggering 1,990 calories. It also has 45 g of saturated fat, 4,580 mg of sodium and 44 g of added sugar. Compared to the recommended daily diet for an average-sized person, which contains 2,000 calories, 20 g of saturated fat, 2,300 mg of sodium and 50 g of added sugar, it is clear that this is a ridiculously unhealthy choice for a single breakfast. In fact, the meal packs in three days' worth of the recommended amount of cholesterol intake, on average, at 1,005 mg.
Chili's Ultimate Smokehouse Combo
Chili's markets this entrée as containing "more flavor than can fit on a plate," which explains why the 2,440-calorie combo is served on a tray. The customer can choose three of four meats offered, including smoked bone-in BBQ chicken breast, jalapeno-cheddar smoked sausage, chicken crispers or a half rack of ribs. Accompanied by sides of roasted street corn, home-style fries, chili-garlic toast and garlic dill pickles, the entrée includes enough sodium to equal three and a half days of the recommended amount (based on a 2,000 calorie diet). Restaurant portion sizes have gotten noticeably larger than they were two decades ago, but remember to use some common sense when ordering. Does anyone really need three meats and four sides?
Cheesecake Factory's Flying Gorilla Cocktail
If you're scanning the menu for a guilt-free cocktail, stay away from this banana-liquor-based chocolate milkshake. The 950-calorie drink is anything but health-conscious, with a whopping 26 g of saturated fat, equaling approximately a day and a half's worth of the recommended amount.
Dr. Lisa Garland, a hospitalist at Advocate Christ Medical Center in Oak Lawn, Ill., recommends educating yourself on appropriate portion sizes in order to make healthy choices when eating out.
"Try asking for a half-size or lunch-size portion if you notice the entrée is too big to comply with a healthy diet. You can also split a meal with someone else at your table or take half of your meal home to enjoy another time. When given the option to choose sides, stick to vegetables or whole grains, but be sure to watch for the amount of butter put on veggies or if they are deep fried. Finally, you can opt for water or unsweetened iced tea instead of soft drinks to keep the calorie and sugar levels of your order down. Oftentimes, alcoholic drinks from restaurants can have as many calories as your main course, so choose your drinks wisely!"
Related Posts
Comments
About the Author
health enews staff is a group of experienced writers from our Advocate Aurora Health sites, which also includes freelance or intern writers.