The next chapter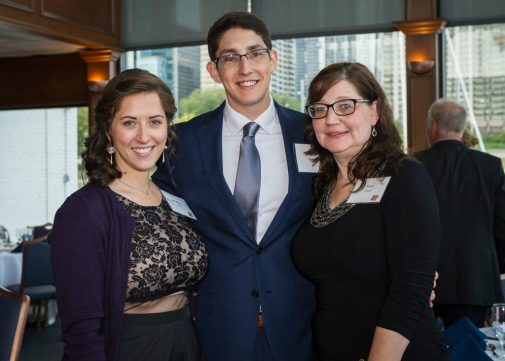 At the age of 16, when most guys are worrying about making the varsity football team and dating the cutest girl in school, I found myself in the ER on New Year's Day with the worst headache I had ever experienced. I thought it was the worst day of my life.
Soon after, I was diagnosed with an ependymoma brain tumor that was intertwined with my brainstem and compressing the nerves surrounding it. The doctors on my team were in disbelief that not only was I still alive, but that I had been at basketball practice two days before and still functioning normally. Apparently, a tumor of that size in so critical a location should have completely paralyzed me months before, but thanks to Dr. John Ruge and his staff at the Advocate Midwest Children's Brain Tumor Center, that was not going to be the end of my story.
I started chemotherapy within a week of my diagnosis and continued treatment for eight weeks. Little did I know that those weeks would seem easy in comparison to what was to come. I was often very ill, I lost all of my hair and yet I still managed to keep up with my school work. And despite the suggestion of my team to proceed with surgery immediately, I managed to convince them all to allow me to finish out the school year.
That May, I went into surgery to remove as much of the tumor as Dr. Ruge could get. The last thing I remember before waking up two weeks later was a conversation about my favorite food at Portillos. Not even Dr. Ruge could have anticipated the struggles I would face waking up from a two-week coma, unable to breathe, speak or walk. This was the worst day of my life.
As it turned out, when they removed the tumor from my brainstem, the nerves that had been so long compressed were now out of control. I would spend the next year working tirelessly to retrain my muscles and vocal cords to function normally again.
After a long and very hard battle, I beat cancer. Two years later, I graduated high school with the rest of my class and went on to Carthage College, where I studied mathematics and earned my teaching degree. Just about ten years after my diagnosis, I had the best day of my life when I married my best friend, Amanda. We will be celebrating two years in just a couple of months.
I have a lot to be thankful for, not the least of which is my dedicated team of doctors and nurses at the Advocate Midwest Children's Brain Tumor Center. I am filled with endless gratitude for Dr. Ruge's persistent attention and care throughout my cancer journey. I also owe my incredible parents a thank you for their dogged determination to ensure that I got the best care possible. They made some pretty big sacrifices to get me through the worst time of our lives. I would not be the man I am today if not for their unconditional love and support.
The Advocate Children's Midwest Children's Brain Tumor Center is celebrating 20 years giving kids the care they deserve. Visit donate.advocategiving.org/Isaac to help make a difference in lives of our youngest patients—patients like Matt.
Related Posts
Comments
About the Author