Saying goodbye to Ruby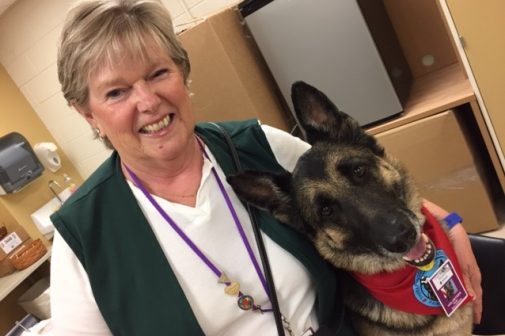 Many hospitals are blessed with incredible volunteers who never know the depth and breadth of joy and comfort they bring to patients and staff.
Among them are ones who want nothing more than a pat on the head, a treat here and there and maybe a scratch… in…exactly…the…right…place.
Such a case was a German shepherd named Ruby, or "our sweet Ruby," as her owner and co-volunteer called her in alerting the Volunteer Services Department at Advocate Good Shepherd Hospital in Barrington, Ill., that this superstar of canine outreach had gone on to her great reward.
As part of the Animal Assisted Therapy Program, Ruby walked the halls of Good Shepherd with her "mom," Betty Gallagher, for almost seven years, bringing smiles to faces starved for one, furry comfort to hands desperate for some.
"Ruby was such a special dog – not just to my family, but to everyone who knew her," Betty says. "She touched so many lives at the hospital. Ruby loved every minute she was there. I believe she thought she had the best 'job' in the world."
In letting the Volunteer Services Department know that her sweet Ruby passed away, Betty shared that her last days were peaceful and filled with love. How fitting for a gentle soul who brought so much love to all she met. In that way, she was like so many other therapy dogs, lifting spirits and decreasing anxiety.
"Therapy dogs and their handlers are such an important part of the care we provide," says Magda Scanlan, manager of volunteer services at Good Shepherd Hospital. "We were so lucky to have had Ruby on our volunteer team. We will miss her very much."
Those at Good Shepherd Hospital hope that Ruby is curled up with a nice, juicy bone right now in doggy heaven. She deserves it. She truly was a good shepherd.      
Related Posts
Comments
About the Author
Kathleen Troher, health enews contributor, is manager of public affairs and marketing at Advocate Good Sheperd Hospital in Barrington. She has more than 20 years of journalism experience, with her primary focus in the newspaper and magazine industry. Kathleen graduated from Columbia College in Chicago, earning her degree in journalism with an emphasis on science writing and broadcasting. She loves to travel with her husband, Ross. They share their home with a sweet Samoyed named Maggie.